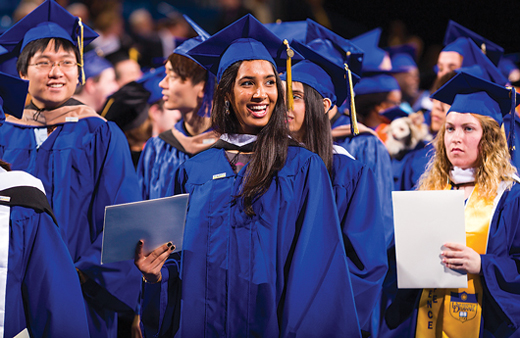 Photo by Kevin Qunlan
Ceremony celebrates new graduates
ON THE GREEN | Graduating members of the Class of 2013 were honored and applauded for their achievements during Winter Commencement ceremonies in January.
University President Patrick Harker joined faculty, administrators and members of the UD Board of Trustees in welcoming some 3,500 guests, including 350 graduates receiving associate, undergraduate and graduate degrees. Alumna Liz Ann Sonders delivered the Winter Commencement address.
"Congratulations to all of our new graduates, and to everyone here who's had a hand in this day—the faculty who taught you, the advisers who counseled you, the family and friends who have loved you and cheered you on through it all," Harker said. "Everyone here deserves a round of applause."
Earlier in the day, the University conferred academia's highest degree on 131 students from 17 countries at a doctoral hooding ceremony. In front of proud family and friends, the graduating doctors of philosophy and of education were invested in the velvet-lined hoods marking their entrée into education's elite. Only about 1 percent of the U.S. population has earned a doctoral degree.
The previous day, the new doctors of physical therapy received their hoods in a separate ceremony.
But UD's doctoral graduates won't be resting on their laurels. Society is counting on their leadership, Harker said. After congratulating the group at the hooding ceremony, he offered the conferees three suggestions for the future: to be open to new opportunities, to put their knowledge to use for the global community, and to be grateful for the lineage of scholars they now join.
"You kept asking questions until the experts ran out of answers," Harker said, reminding the graduates how they got to this point. "Whatever you pursue, we'll be richer for it."
The freshly minted graduates will put their knowledge to work at the U.S. Army Research Lab, Alexion Pharmaceuticals, Air Products and Chemicals, Houghton Mifflin Harcourt, MathWorks, Siemens, Sussex Academy, Wilmington PharmaTech, Texas A&M University, University of Illinois at Urbana-Champaign and Virginia Commonwealth University, among many other locations.
Delawarean Joseph Brobst will now pursue his postdoctoral degree at Western Washington University, focusing on science education research and evaluation.
"I'm going from one side of the country to the other," he said. The former high school science teacher previously earned his bachelor's degree in biology at UD in 2003.
Kyle Winfree, the recipient of a doctorate in biomechanics and movement science, is staying on at UD to pursue postdoctoral research.
"I came to UD because I wanted to do research with impact, and that's what I've been able to do," said Winfree, an Arizonan who now lives in Philadelphia.
He's already the co-author of three different patents, for the ALEX robotic exoskeleton that can help stroke survivors regain leg function and for the PDShoe and SEnsole. These latter two devices are designed to help people with Parkinson's disease walk more smoothly and steadily.
Fan Yang, who received her doctorate in materials science and engineering, will return to Taiwan to work at KLA-Tencor, a semiconductor tool company.
She said her aunt, who lives in California, encouraged her to pursue her doctorate in the United States because of the unmatched quality of a U.S. education. Her aunt traveled to UD to celebrate Yang's achievement, as did friends from New York.
"The University of Delaware's reputation in engineering is truly impressive," Yang said. "UD also has been a great place to experience the American culture."