Tour de France: 23 days, 23 posters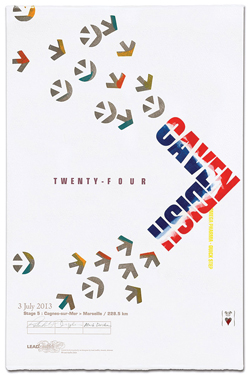 ON THE GREEN | The 2013 year-in-review edition of Sports Illustrated included some surprise recognition for an accomplishment with UD connections—not on the playing field but in a design studio.
The magazine's Dec. 16 edition featured a project by the Lead Graffiti printmaking collective as part of the "Year in Sports Media" section. Lead Graffiti, a Newark, Del., design studio, is operated by Ray Nichols, retired professor of art and former coordinator of the visual communications program at UD, and Jill Cypher, a former graphic designer for the University.
Sports Illustrated highlighted the studio's annual "Tour de Lead Graffiti," in which designers attend the 23-day Tour de France cycling race and create a poster at the end of each stage highlighting the day's action. Designers for the 2013 endeavor included Mark Deshon, AS78; Jeannie Marcotte Wagner, AS88; Jessica Koman, AS88; Hendrik-Jan Francke, AS93; Ann Lemon, AS84; Lindsay Schmittle, AS13; Ben Gallegos, AS14; and Rebecca Johnson Melvin, head of manuscripts and archives at the UD Library.
The magazine illustrated the item with a poster (below) created by Nichols, Cypher and Deshon. For more about the project, and to see all 23 posters, visit http://leadgraffiti.com/.