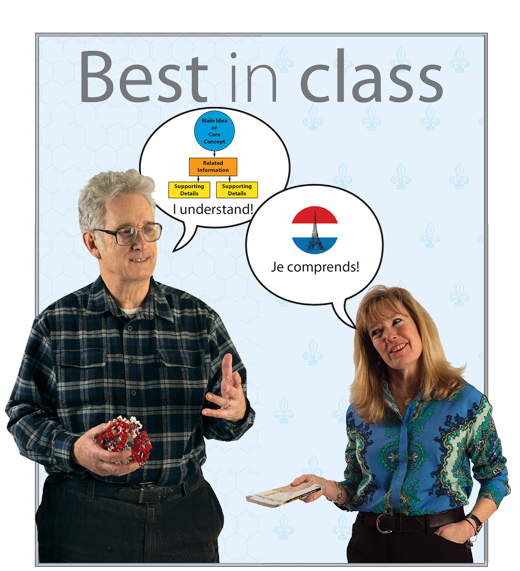 Photos by Kathy F. Atkinson
ON THE GREEN | This fall, two Delawareans were granted high honors in the world of teaching.
Lea Wainwright, AS85, a French teacher at Appoquinimink High School in Middletown, was named the state's K-12 teacher of the year by the Delaware Department of Education. Hal White, professor of chemistry and biochemistry at UD, was granted the rare honor of being named Delaware's professor of the year by the Council for the Advancement and Support of Education (CASE) and the Carnegie Foundation for the Advancement of Teaching.
The two speak different languages. White's world is heavy with the jargon of science, spoken fluently among those who read and publish journal articles and attend meetings focused on the invisible molecules important to life. Wainwright is an expert on the mellifluous tongue of a romantic land known to honeymooners and historians, artists and culinarians.
Yet, when it comes to teaching, White and Wainwright share the same passion. Recently, the UD Messenger brought them together to talk about the work of educating young people. And as it turns out, their languages really aren't so different after all.
White: "It's like a foreign language, a lot of science. Some say there is more vocabulary in a science class than a language class."
Wainwright: "I teach French, but it's more than just learning a verb. They need to be able to do something with this, solve problems with this." She says she was inspired by the book The World Is Flat, by Thomas Friedman.
White: "I think it was the same book I came across, where instead of [emphasizing] the intelligence quotient, it's the curiosity quotient. Unless you have a curiosity about things, you can know lots of things, but you're not going to do anything with it."
As a symbol of his teaching philosophy and instructional methods, White shows a plastic model of hemoglobin, the molecule that allows red blood cells to deliver life-sustaining oxygen throughout the body. He teaches an entire biochemistry course just by having his students trace the history of research on this molecule.
Wainwright brings a copy of Le Petit Prince, which her students read and then analyze in French. The short, narrative fable teaches readers that the most important things in life are invisible—"kind of like your molecule there," she tells White.
Neither educator began with a career in the classroom, but both somehow knew they would end up there. Wainwright majored in French with a minor in business while at UD and thought she would pursue accounting. It was 20 years ago, while she was on maternity leave—having worked a series of jobs in other industries—when her journey back to education began.
Wainwright: "I started tutoring a student who was either going to have to repeat a year of French or take it over the summer. It was about the third week in and it dawned on me that this is what I wanted to do, looking at this child and realizing how much they're into what I'm talking about and they're so pleased with themselves and feeling so confident with what they learned."
She returned to UD and enrolled in education classes the very next week.
White embarked on the traditional path of an academic scientist, collecting the valuable currency of publications based on his laboratory research and pulling in grant funding. He taught courses when he came to the University, as many faculty members are expected to do, but his real focus was on the investigations in his lab.
He eventually became involved in regular discussions on campus about teaching and learned that the challenges in education were the same, regardless of the field. When his research funding waned 20 years into his scientific career, he applied for instructional grants and he has been devoted to teaching ever since.
White: "You're not trained to teach [as an academic], but I was always interested in teaching." As a young man, he had taught students participating in an Upward Bound program in Boston, which left an impression. He also came from a family of teachers.
For both educators, the lessons they try to impart to their students are bigger than the subjects they teach. It's about helping their students see the world as a larger, more connected place, they say, and giving them the skills to think critically and solve problems.
White: "A teacher's goal is to have students change, to change their world. That's sort of subversive in the sense that if they haven't changed, then you haven't accomplished that."
Wainwright, who first saw the impact she made on the student she tutored, now sees that in the students she takes for study abroad at their sister school in France every other year: "Even my one- or two-week-trip kids come back and see things a little differently. It really opens their eyes."
White: "If you're a teacher that students identify with in some way—I'm sure you can relate to this too—you can get them to do amazing things. They do more than they ever would have expected they could."
Wainwright: "Our content is different, but I guess it's maybe all good teaching."
Article by Kelly Tyrrell