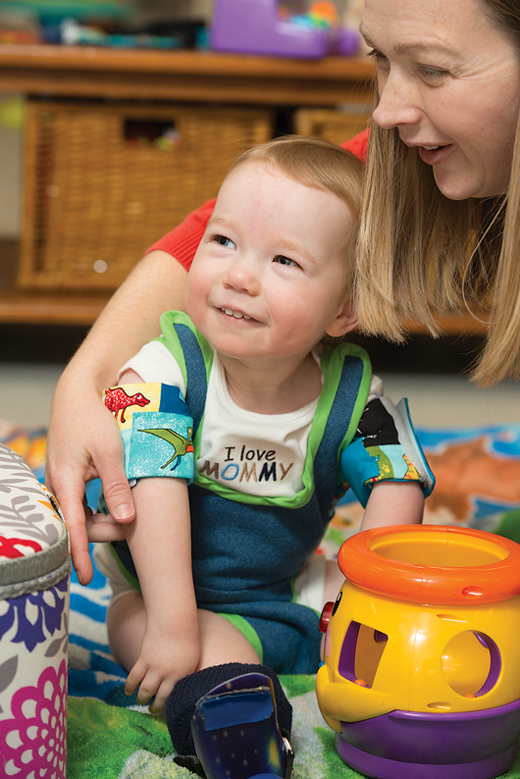 Photo above by Kathy F. Atkinson
A stellar resource for students, patients
ON THE GREEN | Nineteen-month-old Matthew is playing to a crowd in the Pediatric Mobility Lab and Design Studio at the University's STAR Campus.
More than a dozen people—including pediatric physical therapist Michele Lobo, several engineering students, apparel designer Martha Hall and the little boy's mother—are watching as he reaches to knock a bright-orange ball from the top of a box to the floor.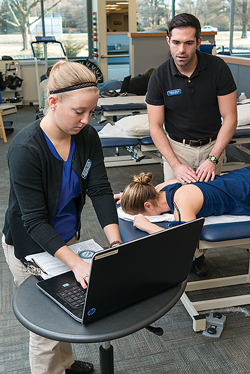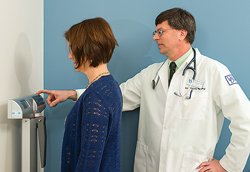 It's an easy task for most children this age, but Matthew has arthrogryposis, a congenital condition characterized by stiff joints and abnormally developed muscles. He has limited ability to raise his arms and reach for toys, so he's wearing an upper-extremity exoskeleton to help him play and thereby learn about his world.
The device was developed by an interdisciplinary team of people that includes Matthew's mother, who provides valuable feedback about what is and isn't working with the ever-evolving exoskeleton.
The project is just one example of the work ongoing in the Pediatric Mobility Lab, and the lab itself is just one example of the research and learning ongoing at the new College of Health Sciences facility at the STAR (Science, Technology and Advanced Research) Campus, the transformed former site of Chrysler's Newark Assembly Plant.
The building houses research labs as well as two clinics, the Delaware Physical Therapy Clinic and the Nurse Managed Health Center, both of which are open to UD employees and the larger community. But the clinics provide more than health care—they're an integral part of the clinical and research training that health sciences students receive at the new facility.
Doctoral students in physical therapy (DPT) develop treatment regimens for patients under the supervision of clinical instructors, and the results of the nationally ranked department's research are immediately incorporated into new treatment plans. When they're not in the spacious new clinic, the students are completing their coursework in state-of-the-art classrooms on the second floor.
"I chose Delaware because of the clinical experience," says DPT student Amanda Anderson. "No other school offers anything like this, so UD students are typically ahead of the game when they graduate because of that experience. A facility like this was the one thing UD lacked before, and now we have it. Who wouldn't want to come here?"
In the Nurse Managed Health Center down the hall, nurse practitioners deliver patient care and mentor registered nurses who are pursuing graduate degrees, while undergraduates observe in an actual medical setting. In addition, graduate students in applied physiology administer exercise stress tests, and students in the health promotion master's degree program work with patients on wellness-focused behavioral changes.
"The nurses here are focused on taking every opportunity and turning it into a learning experience for the students," says junior nursing major Karly Biggs. "Throughout the day, I'm involved in flu vaccinations, EKG testing, the discussion of blood test results and various other tests. This is a great atmosphere to ask questions and to gain confidence in communicating with patients in a medical setting."
The new health center has six exam rooms, a comfortable waiting room, convenient access and parking and a broad array of testing and treatment capabilities. Like other urgent-care clinics, it offers treatment of episodic injuries and illnesses, as well as routine tests and immunizations. Patients can also choose the center as their primary care provider.
Back in the Pediatric Mobility Lab, Hall pulls out a fabric tape to take some measurements on Matthew for the next-generation exoskeleton. An adjunct professor in the Department of Fashion and Apparel Studies, she is working with the engineers and physical therapists to design so-called "expressive rehabilitation devices," which reflect the personal style of the individual wearing them.
In Matthew's case, the focus is on embedding the technology in garments made from the kind of soft, playful fabrics used in kids' clothing, so that the child is comfortable and blends in with his peers. "As soon as I heard about this project, I knew I wanted to be involved in it," Hall says.
That's exactly what College of Health Sciences Dean Kathleen Matt wants to see happen on the STAR Campus.
"The labs here are all designed to encourage groups of researchers from a variety of disciplines to collaborate," she says. "We want to see undergraduate and graduate students, faculty and clinicians all working together with patients to foster healthcare innovation.
"Our goal is to bring healthcare challenges directly to the academic environment, where our interdisciplinary and interprofessional teams design solutions. The STAR Campus is about discovering new solutions, delivering new applications and giving back to the community. It's about impact."
Article by Diane Kukich, AS73, 84M