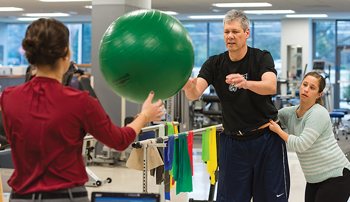 Photo above by Evan Krape
Leadership gift to enhance health care
ON THE GREEN | The University has received a leadership commitment from UD Trustee Carol Ammon and her partner, Dr. Marie E. Pinizzotto, BE08M.
The gift—which the couple will make through their philanthropic foundation, the Carol A. Ammon Foundation—will generously support the new College of Health Sciences Complex, part of the University's Science, Technology and Advanced Research (STAR) Campus on a 272-acre parcel of land on South College Avenue.
"Ultimately, we all want better health at a lower cost," says Kathleen Matt, dean of the College of Health Sciences. "By offering an integrated approach that centers on patient wellness and prevention, we believe the College of Health Sciences Complex is one step closer to meeting that goal.
"We are honored that Carol Ammon and Marie Pinizzotto chose to support our initiative with this generous gift from the Carol A. Ammon Foundation. In doing so, they have made a significant investment in the future of health care in our community."
Replacing the former Chrysler assembly plant's administration building at the heart of the STAR Campus is the College of Health Sciences Complex, which opened in January. Occupants include the University's Nurse Managed Health Center, Physical Therapy Clinics and several core research labs. The move to a larger facility will enable the health center and clinics to expand.
Not surprisingly, Ammon and Pinizzotto both have history deeply rooted in health science and philanthropy. Ammon is the founder and retired chief executive officer and chairman of Endo Pharmaceuticals Inc., a specialty pharmaceutical company based in Chadds Ford, Pa. She started the company in 1997 after she and two colleagues acquired several products and their related rights in a management buyout from DuPont Merck.
Before founding Endo, Ammon served as president of DuPont Merck's U.S. Pharmaceutical Division. Since her 2007 retirement, she has devoted more time to philanthropic pursuits, including those of the foundation that bears her name.
In addition to her current service as a member of the UD Board of Trustees, Ammon previously served as a trustee and chairman of the board of Christiana Care, a member of the board of trustees at the Hagley Museum and Library and a member of Harvard's Healthcare Advisory Board. She was inducted into the Delaware Business Leaders Hall of Fame in September 2010.
Pinizzotto earned her medical degree from Jefferson Medical College in Philadelphia and specialized in obstetrics and gynecology before ultimately transitioning to a successful career in the pharmaceutical industry. She was the head of global safety for Wyeth's Women's Health Care Division and subsequently started her own consulting firm in drug safety and risk management.
In 2008, Pinizzotto earned her master's degree in business administration from UD's Alfred Lerner College of Business and Economics.
She is a board member at Eisenhower Medical Center in Rancho Mirage, Calif., and The Multiple Myeloma Research Foundation. She is also a trustee at Christiana Care, where the Endowed Chair of Obstetrics and Gynecology is named in her honor.
Pinizzotto is currently the president and chief executive officer of the Carol A. Ammon Foundation, which focuses on health care and education initiatives.
"We are happy to be able to support UD's College of Health Sciences as it begins a new era of education, research and service to our community," Pinizzotto says. Ammon says she believes that a gift to the campaign for the College of Health Sciences Complex is an investment in the future of Delaware.
"Our business community is no longer comprised of a small number of companies that dominate employment growth," Ammon says. "We must continue to innovate and create entrepreneurial opportunities for new companies to develop and create job growth. Investing in health sciences will allow us to do this."
Article by Shannon H. Pote