Three cheers for winners of spirit team competitions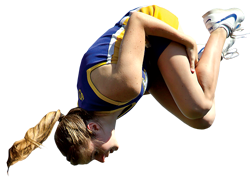 ON THE GREEN | Blue Hen spirit teams finished among the best in the 2014 Universal Cheerleading Association and Universal Dance Association National Championships held in January at Walt Disney World in Florida, with the cheerleading squad winning a national championship.
The UD cheerleaders finished first in the Division I large coed competition, ending rival Morehead (Ky.) State University's 12-year winning streak. Fan favorite mascot YoUDee placed second in the open mascot division, and the dance team finished fifth in Division I hip hop and jazz competitions.
"Our team was, and still is, ecstatic," cheerleading coach Ben Schreiber says. "Morehead State is a great program with so much tradition. It feels special to be on top for 2014."
In the mascot competition, YoUDee had won three straight national titles and was going for a fourth. "Even though we placed second this year to Tennessee Tech by one point, it's a great feeling to me that our team is able to show off their creative talents at the national level," says Sharon Harris, director of the mascot program.
Dance team head coach Nicole Zehnder lauded the UD dancers for being true fighters and competitors, finishing 0.5 points from third place in jazz and 1.5 points from first place in hip hop. "I would not have changed a thing or asked any more from them," she says.