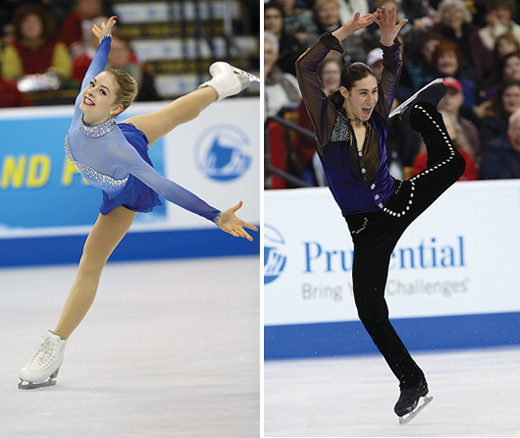 Photos courtesy of usfsa.org
A high-tech jump on the competition
ON THE GREEN | If you watched the figure skating events from Sochi in February, you weren't alone. According to a recent poll, almost a fourth of Americans say figure skating is their favorite Olympic sport.
While most of us sit back and enjoy the show in all its grace, beauty and athleticism, UD's Jim Richards zeroes in on the skaters' "air position." And long before the Games began, many of the top U.S. skaters visited the University to seek his help.
From his decades of skating research, Richards, the Distinguished Professor of Kinesiology and Applied Physiology, knows that proper air position is critical to successful jumps. A computer simulation developed by his team at UD, in collaboration with Maryland-based C-Motion Inc., enables skaters and their coaches to observe an athlete's actual movements on a computer screen and then see how those movements can be manipulated to improve jumping technique.
"The best part is that within just a few minutes, we can show them how making a small but specific change can effect a big change in terms of their ability to land their jumps and avoid repeated falls," Richards says.
Over the past several years, some 80 elite figure skaters have turned to the simulation for valuable feedback on how they can turn doubles into triples and triples into quadruples. This group includes four of the five U.S. Olympic singles skaters who competed in Sochi—Jeremy Abbott, Jason Brown, Gracie Gold and Ashley Wagner. More than a dozen of the skaters who have used the system have already won medals at national competitions, including Gold, who won the U.S. Figure Skating national title in January.
Richards' system looks almost ridiculously simple on the computer screen: two little mannequins, one representing the actual skater and the other a mathematical model of that individual.
"After years of fine-tuning the motion capture system, collecting data and writing software, the end result was almost anticlimactic," Richards says. "All that work went into producing those two little figures."
He learned the hard way that simplicity was what the figure skating world needed. "Initially, we used a lot of tables and graphs and charts to describe recommended performance changes, but these ended up having little value to the skaters or their coaches," he says. "We couldn't translate numbers and graphs into useful information for them—we needed something that was more visual."
While physics may pave the path to better skating, Richards quickly discovered that the simulation alone wasn't enough. While the program's advice was physiologically sound, it wasn't psychologically realistic in having the skaters increase their spinning speed.
"Their bodies were telling them it wasn't safe, so we realized we needed to strategize with them about how to accomplish more rapid spinning," he says. "It wasn't enough to just tell them what to do; we also had to tell them how to do it."
Richards reluctantly accepts his few weeks of fame every four years when the skaters who have visited his lab at UD vault into the limelight. In the past year, such news outlets as CNN, the Philadelphia Inquirer, New York Times and Live Science have visited campus to report on the research, which also has applications in the medical field.
"Two aspects of this system are unique," Richards says. "The first is that we're taking a mechanical analysis of human motion and immediately using it to impact performance. The second is that the simulation confers the ability to mimic an activity and see what will happen if you make a change."
Article by Diane Kukich, AS73, 84M