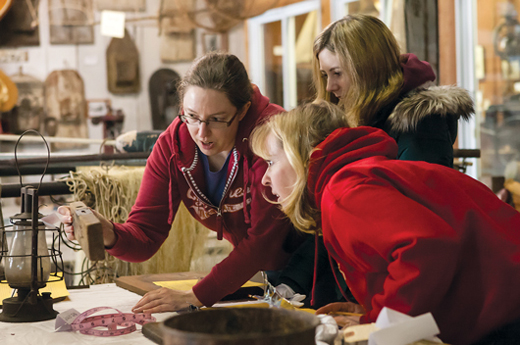 Photos by Ambre Alexander Payne
Museum gets its ducks in a row
ON THE GREEN | Frigid January weather and a lack of building heat were no match for a group of graduate students in the Museum Studies Program who spent two weeks of Winter Session providing skilled help to a museum dedicated to the outdoors.
During their stint at the Upper Bay Museum in North East, Md., the students set out to clean, label and catalog items related to hunting and fishing in the traditional way of life of the Chesapeake Bay area. Occupying a former fish house, the museum holds an extensive collection of artifacts dating back to the 1800s.
With hundreds of items and little existing historical identification for many pieces, Upper Bay called on the UD program for help.
Using non-invasive cleaning techniques with lightweight hand brushes and variable-speed vacuums, the students removed years of accumulated dust from many items. After pieces were labeled, numbered, photographed and cataloged, the information was transferred and stored in a computer database that provides the museum with proper documentation for its collections.
This year marked the fifth time the UD service project has assisted a museum in the region. Dubbed SWAT and funded by an Institute for Museum and Library Services' Sustaining Places grant, the program brings intensive help to small historical facilities while, at the same time, giving students on-site and hands-on opportunities.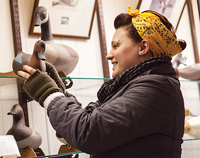 The Sustaining Places grant was created after a national study found that 80 percent of small museums lack systematic records of their collections, which are in danger of falling into disrepair.
"It would have been extremely difficult for us to pay for this work," says Lori Bouchelle, a regular volunteer at Upper Bay. "Because this service [by UD] is provided at no cost to the museum, we can instead pursue funding to improve our displays, increase our educational efforts and continue to preserve and update the museum building itself."
As for the students, the experience is invaluable, say Katherine C. Grier, director of the Museum Studies Program and professor of history, and staff assistant Tracy H. Jentzsch, who both accompanied the students to Upper Bay. This year's students represented a variety of areas of study, including history, fashion and apparel studies, and historic architecture and design.
"The benefits of participating in the SWAT program are the students' ability to take their content knowledge and skills acquired through traditional classroom experiences and apply them to real-world experiences," Jentzsch says.
Upper Bay houses an extensive collection of duck decoys, complete with a period room Duck Decoy Shop. Though the installation is a replica, the makeshift sander belts, benches and carving tools provide a snapshot into duck decoy culture.
Also on display in the museum is a boat known as a double sink box, the only one known to be still in existence. The sink box rig would submerge, surrounded by hundreds of duck decoys. The two hunters who could fit in the boat were able to kill 400-500 ducks a day, shipping them to restaurants and hotels in the region. The sink box was eventually outlawed in 1935 to protect declining duck populations.
"This is such a fantastic collection because of the great quality of the pieces and the strong community base," Grier says of Upper Bay. "Once upon a time, the community was making its money this way. It was a way of life."
Article by Nicole Sullivan, AS15