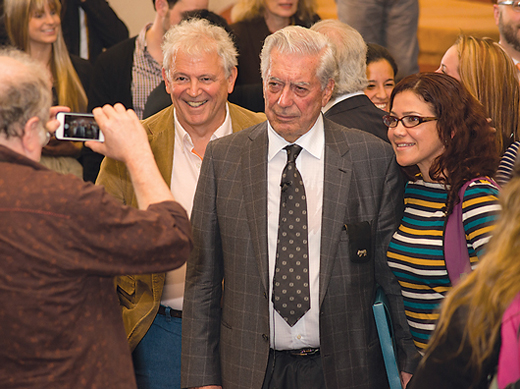 Photo by Duane Perry
Flights of imagination inspire novelist
ON THE GREEN | Peruvian writer Mario Vargas Llosa, the 2010 Nobel Laureate in Literature, told a UD audience last fall that when he sits down to write a novel, the process "is fascinating and mysterious, but it is not fun."
As a writer, he said, "One is willing to take advantage of the best and worst of himself and the people around him," all to find the kinds of real, personal experiences with which his works of fiction begin. But after outlining a story based on those actual experiences, fantasy and imagination come into play to create the final work, he said, calling the initial real-world event or person "only the starting point, not the point of arrival."
Vargas Llosa spoke on the theme "A Writer and His Demons" as part of the Transnational Encounters visiting authors series made possible through a grant from UD's Interdisciplinary Humanities Research Center.
The day after the lecture, he read from his work at two additional events—one in English and one in Spanish—and signed copies of his books.
He is the author of more than 60 works, including novels, essays, short story collections and dramatic works.
Some of his many works that have been translated into English are his earlier novels The Time of the Hero, The Green House, Conversation in the Cathedral and Captain Pantoja and the Special Service.
Overall, fiction allows both writers and readers to "go beyond the limits" of reality, Vargas Llosa said. "Novels may not make us happy, but they make us…more complete," he said.