Gallery visitors can keep up with the Jones Collection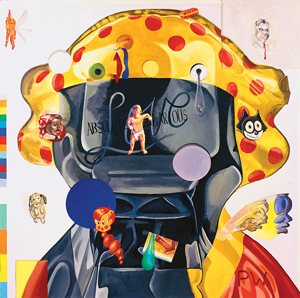 ON THE GREEN | An exhibition of work by African American painters is on view through June 28 at UD's Mechanical Hall Gallery.
Titled "FreshPAINT: African American Art at UD," the exhibit showcases works from the University's Paul R. Jones Collection of African American Art alongside recent acquisitions. Using the words "fresh" and "paint" playfully and reflexively, the selection calls attention to methods and materials as well as content and style.
The most recent bequests on view are two streetscapes by renowned Delaware artist Edward L. Loper Sr., who died in 2011.
Many of the works on view date to the mid- to late-20th century, reflecting the collecting history, habits and aesthetics of the Atlanta collector Paul R. Jones (1928-2010). Since its donation to UD in 2001 the Jones gift has served as a point of departure for a growing collection of art by artists from America and the African diaspora.
Autumn in Georgia (c. 1931) by Hale Aspacio Woodruff and Snowbanks (1959) by Felrath Hines are among the earliest works on view and, with the two Loper paintings, set an important tone for the exhibition as a whole.
Committed to abstraction from the late 1950s onward, Woodruff and Hines joined fellow artists in the collective known as Spiral in 1963. Discussions among the artists centered on aesthetic, social and cultural concerns, including debates over the social responsibility of the artist and artistic content.
These conversations continue today, and "FreshPAINT" bears witness to the many ways in which artists have responded.
"FreshPAINT" was co-curated by Robert Straight, professor of painting, and Julie L. McGee, University Museums curator of African American art.