Students roll up sleeves to help community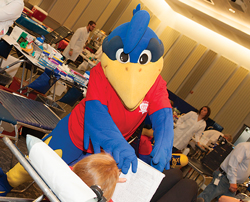 ON THE GREEN | For the third straight year—and for the seventh time in the 12-year history of the competition—UD has captured the Colonial Athletic Association Blood Challenge, with 1,173 donors giving to the Blood Bank of Delmarva at a one-day campus event.
The event, which is held each fall on the campuses of CAA member schools, was a big success once again in 2013 as 2,903 productive units of blood were collected from 2,776 donors on nine campuses. Over its 12 years, the Challenge has yielded 39,622 productive units of blood.
"The University of Delaware Department of Athletics and Recreation Services is thrilled to win our third consecutive CAA Blood Challenge championship," says Jerry Oravitz, UD's director of football operations and Blood Challenge site coordinator. "This string of success is another great example of the Blood Bank of Delmarva, the University and our community working together as one team to provide a necessary and critical service for the people in Blue Hen country."
UD used the theme "Dare to Donate" and enlisted the support of the businesses in the city of Newark as well as the campus community to spread the word of the blood drive. Student groups, faculty, staff and alumni were all encouraged to participate.