Student awarded international scholarship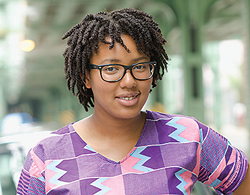 ON THE GREEN | When UD senior Simone Austin heard she had been selected to receive a prestigious Benjamin A. Gilman International Scholarship to study abroad, she just couldn't contain her excitement.
"I let out a squeal, which alerted my co-worker," says Austin, who works at the Delaware Field House. "I received the news a day before my birthday, so this is probably one of the top-10 best birthday presents!"
The award, which provides scholarship funds up to $5,000, is sponsored by the U.S. Department of State's Bureau of Educational and Cultural Affairs.
Austin, who is from Claymont, Del., is majoring in political science and international relations and Black American studies, with a minor in African studies.
During Winter Session 2014, she studied in Brazil through UD's programs in anthropology, foreign languages and literatures, and Latin American and Iberian studies.
Austin is one of more than 700 Gilman Scholarship recipients this year. The students, all undergraduates, represent 341 colleges and universities across the U.S.
"I feel really honored to receive this award to fulfill a lifelong dream to study abroad," Austin said when first told of her selection. "Not only will I be able to study abroad with this award, but upon my return I have the opportunity to share my experiences and act as an ambassador for the Benjamin A. Gilman Scholarship."