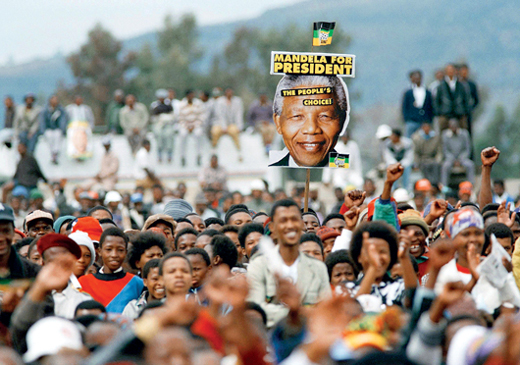 AP photo
Building a new nation
Couple uses UD education and partnerships to continue Mandela's legacy
ALUMNI | They met Nelson Mandela on his second official U.S. tour. It was 1991, nearly 15 years since they had fled South Africa, and the anti-apartheid revolutionary surprised them with his memory.
He asked about their fathers, Nat Mokate (always called Smally) and S. Vil-Nkomo (called Vil). He offered condolences upon learning of their passing.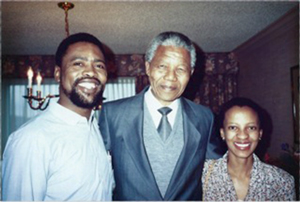 "The time has come for you to return," Mandela told them. "I want you to be part of the democratization of South Africa. Your knowledge and skills are invaluable and must be used for a free nation."
For nearly a decade and a half, Sibusiso Vil-Nkomo, AS83M, 85PhD, and Renosi Mokate, AS83M, 86PhD, had lived an ocean away from their native country, first in Pennsylvania and later in Delaware, where they married, had children and attended graduate school, choosing majors that would most benefit their homeland.
"We tailored our studies so that if the day came and we could go back, we could use our knowledge appropriately," says Vil-Nkomo, who, along with his wife, earned master's and doctoral degrees from the School of Public Policy and Administration.
At UD, they were trained in the theory, practice and development of public policy.
"And that's exactly what we had to do," says Mokate. Not long after meeting Mandela, the couple returned to South Africa and began remarkable careers of public service.
As the chief executive officer of South Africa's first Independent Electoral Commission, Mokate structured the first democratic election in a country where 90 percent of the people had been denied the right to vote—a historic election that would make Nelson Mandela the first black president in South Africa's history.
Today, she has an impressive resumé of public service and administration, with posts ranging from her current role as adviser to the National Treasury of South Africa, to former executive director at the World Bank, where she was responsible for Angola, Nigeria and South Africa.
In January 2014, she was appointed executive director and chief executive officer of the University of South Africa's Graduate School of Business Leadership, which offers doctoral, master's and postgraduate business education and is regarded as one of the top three business schools in the country.
Vil-Nkomo, meanwhile, hammered out civil service provisions in the interim constitution of the new government in 1993, creating and administering a new, integrated civil service in a country where people of color previously were denied significant roles in the national government administration.
He was appointed public service commissioner by President Mandela in 1994, and later joined the faculty of the University of Pretoria, where he went on to become the first black dean in that university's history. He was also the first black dean of the Faculty of Economic and Management Sciences.
Today, Vil-Nkomo chairs the board of governors of the Mapungubwe Institute for Strategic Reflection (MISTRA), which was recently ranked as one of the world's 10 best new think tanks by the University of Pennsylvania's 2013 Global Go To Think Tank Index.
MISTRA's focus is on charting the path for South Africa's social and economic prosperity and the achievement of national goals for equality and democratic engagement of all populations—what has been called the second South African revolution.
Its tagline is apt: "An idea whose time has come." With 2014 marking the 20-year anniversary of the existence of freedom in the country, "Our work over the past two decades has been about actualizing the constitution," Mokate says.
"But," her husband adds, "we're a fledgling democracy that has to be nourished."
During a visit to UD in January 2012, Vil-Nkomo proposed an expanded higher education collaboration involving the University, MISTRA and universities in South Africa.
In February 2013, a UD faculty contingent, including public policy experts Maria Aristigueta and Dan Rich and chemical engineer Doug Buttrey, traveled to South Africa to explore higher education partnerships as part of a state of Delaware mission. Later that year, MISTRA leaders came to Newark for a daylong conference to explore how to "go beyond the templates of an MoU [Memorandum of Understanding]" and "develop a different kind of focus in Africa."
The partnership between UD and MISTRA, while still in its infancy, would aim to combine the research interests and expertise of University faculty with growing areas of importance and influence in South Africa. Another Delaware delegation that also included several UD faculty members visited the country again this February, hosted in part by MISTRA.
Possible collaborations with the University include art conservation and photography preservation in sub-Saharan Africa; fuel cell technology and off-grid energy storage for villages and townships; agricultural research in farming, avian biosciences and water resources; and public policy education, with the School of Public Policy and Administration (SPPA) as a model for South Africa.
In addition to his role with MISTRA, Vil-Nkomo chairs the council for the new National School of Government, a government-funded institution that will establish a new approach to education, training, development and professional development in public service and public administration management.
The National School was officially launched in October 2013, and its hands-on model of bridging theory with practice is based on Vil-Nkomo's own experiences at SPPA.
"The education one acquired here is second to none," he says. "The knowledge we used to develop the interim constitution for South Africa more than 20 years ago came out of the education here at UD, and [that education] remains just as relevant today as ever."
Article by Artika Casini, AS05