JEANNE VANNOY SCHRAMM, EH63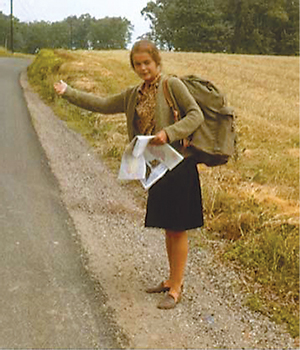 ALUMNI | What was I thinking? That's what was uppermost in Jeanne Vannoy Schramm's mind when—48 years after the fact—she came across the diary she had kept while on an adventure in the year following her 1963 graduation from UD.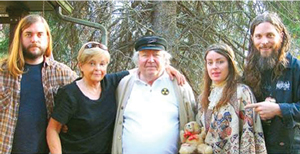 Setting off alone on a trans-Atlantic ocean liner with no itinerary in mind, the Chester County, Pa., farm girl would go on to spend nine months hitchhiking through 18 countries on three continents, meeting an assortment of new friends and traveling companions along the way. Last year, to mark the 50th anniversary of her journey, Schramm compiled the diary and snapshots from the trip into a self-published book titled A Hitchhiker's Diary, 1963–64.
Amazon reviewers have called the book "a page-turner" and "a fun and interesting armchair journey," and many expressed a wish that they had been brave enough for such an undertaking.
She added some present-day notes to the highly entertaining and readable diary, which, in a brief preface, she describes as "concerning the rather questionable judgment of a not-very-worldly-wise 22-year-old, whose most exotic traveling experience up until that point had been crossing the Delaware River on a ferry."
Her nine months abroad included a foray through Checkpoint Charlie into East Berlin, being mistaken for a "lady of the night," dining on chicken feet, spending a night in jail (offered to her and her companions as a courtesy when they could find no other accommodations), living on a kibbutz, climbing a pyramid and an encounter she summarizes a "15 Italian soldiers, a bag of chicken and a jug of wine."
Schramm believes that it was only because her parents were so inexperienced in traveling themselves that they didn't recognize the potential dangers of her plan and try to stop her. In fact, when her father drove her to New York Harbor to board the SS United States, it marked his first and only time in the city.
After returning home in May 1964, Schramm attended graduate school, moved to West Virginia, married and raised a family and worked as a teacher and then a librarian until retiring. Of her hitchhiking adventure, she writes:
"Had I known in advance about all the predicaments I would have gotten myself into, would I still have gone on this trip? Absolutely! Would I, in this not-quite-so-innocent age, recommend that my daughter, or anyone else's, take off alone across the Atlantic and start wandering around, hitching rides all over the place with total strangers? Probably not."