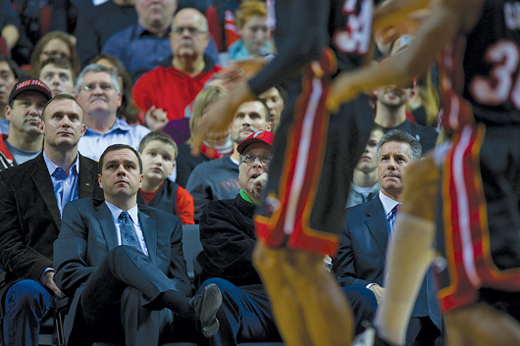 Photo by Jamie francis, courtesy ofThe Oregonian
Fan blazes his own trail to career in sports
ALUMNI | The first live sporting events that 5-year-old Chris McGowan attended weren't the professional baseball, football or basketball games that most American kids experience.
That's because McGowan, AS96, and his family were living in Stuttgart, Germany, where his career-Army father was stationed. They traveled throughout Europe on weekends back then, taking advantage of his father's posting to see France, Austria, Italy and many other places.
And the dominant spectator sport there, of course, is soccer. McGowan's exposure to 60,000 passionate soccer fans—to a 5-year-old, sometimes frighteningly passionate—ignited his own love of the game.
"When you get exposed to that stuff early, it has a big influence on you later in life," he says.
Indeed, McGowan went on to play soccer for the Blue Hens in the 1990s and led the team as captain before graduating in 1996 with a bachelor's degree in international relations.
He's still pursuing his love of athletics and has combined that with a well-developed business acumen to become president and chief executive officer of the NBA's Portland Trail Blazers. He took the job in 2012 after 16 years with AEG Sports, owner of the NHL's Los Angeles Kings as well as several other teams and event venues around the world.
"I'm a big believer in following your passion," McGowan says. "I was passionate about sports, but you don't always need to be a professional athlete to develop a career in that."
It's a career path McGowan didn't know existed while growing up as an Army brat. His family moved every two to three years, living in Kansas twice, Kentucky twice, Texas, Germany and finally Pennsylvania.
"It's tough to do when you're younger," he says. "Every time I moved, I was moving away from my best friends and thought I'd never see them again."
As his father's Army career wound down, the family settled in Carlisle, Pa., and McGowan was able to attend the same high school for four years. He had his heart set on playing Division I soccer at Penn State University but had to settle for playing at a small Division III school that recruited him.
But then he changed his mind. Such a small college wasn't much different from his high school, he thought, and it wasn't the college experience he wanted. He decided to check out a few others, including UD.
"When I went to the campus, I fell in love with it," McGowan says. "I was blown away by how beautiful it was."
He started without a declared major, and then settled on international relations because he'd always enjoyed learning about different people, cultures and politics.
By Thanksgiving break of McGowan's junior year, his father had retired and moved to Denver. During a visit, McGowan met several executives with the NBA's Denver Nuggets, opening his eyes to the business side of professional sports. From then on, his career path was set.
Working in sports has all the challenges of high-stakes corporate life but "still feels like a team environment," McGowan says.
When the Los Angeles Kings won the Stanley Cup in 2012—a few months before McGowan left—the entire organization celebrated with them. McGowan is part of the celebratory team picture shot moments after their victory against the New Jersey Devils.
"Yeah, we get to watch a game at the end of a workday, but we're not just sitting in the stands eating popcorn and hotdogs," he says.
"We're making sure our food and beverage sales are going well. We're making sure retail is going smoothly, and all our customers are happy. These are 16- or 17-hour days, and we're working a lot of weekends."
He chuckles at the common notion that a team's off-season must be his quiet time. In fact, he says, that's when sports organizations are busiest because they're doing most of their budgeting and planning for the coming year.
A big part of his new job in Portland is running the Moda Center, where the Trail Blazers play, as well as the nearby Veterans Memorial Coliseum and Rose Quarter campus. The venues host all kinds of events—concerts, conventions and more.
The opportunity to oversee a professional sports team and run a major event venue is what drew McGowan from AEG Sports to the Trail Blazers. He has spent much of his first year restructuring the organization, including bringing in a new ticketing company and a new food-and-beverage company.
McGowan says the time-management skills he learned at UD—as a student-athlete with an active social life—are serving him well in his new job. And just as he found his way around Newark two decades ago, he's learning the rhythms of his new home of Portland.
"When you choose a college, you dive in and make the best of it," he says.
McGowan says he hopes to bring his family—he and his wife, Susan, have two sons, Ryan and Kyle—to UD for a visit soon.
And maybe an alumni soccer game with his old teammates.
Article by Mike Chalmers