Making a habit of academia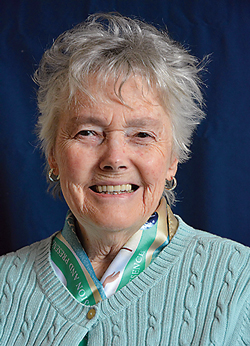 ALUMNI | When Vatican II closed in 1965 and enabled nuns to change out of their habits and move out of their traditional habitats, Sister Maryellen Keefe set out on an educator's path.
Today, that path is still twisting and turning in delightful career directions, even as Keefe is an age when many have moved into retirement.
The journey that started in an elementary school, leading a class of 47 10-year-old boys, and included a stint teaching at Ursuline Academy in Wilmington, Del., has led all the way to earning a doctorate from UD in her 60s, an associate professorship in English at State University of New York (SUNY) Maritime and a book that will be published this summer. Sister Maryellen is now more often known as Dr. Keefe.
The book, which began as her dissertation at UD, will be published by SUNY Press under the title Casual Affairs: The Life and Fiction of Sally Benson. Benson was a writer for the New Yorker in the 1930s. Her stories about her family, published in the magazine as "5135 Kensington," were made into the movie Meet Me In St. Louis, the 1944 musical starring Judy Garland and directed by Vincente Minnelli.
Early reviews of Keefe's book call it "vivid" and "highly entertaining." Susan Goodman, professor of English and H. Fletcher Brown Chair of Humanities at UD, was Keefe's dissertation adviser. In a review of the Sally Benson book, Goodman wrote:
"Finally a biographer capable of bringing the brilliant and outrageous Sally Benson to life! … Keefe's vivid account, which draws on family papers as it traces Benson's personal and professional ups and downs, is also the story of a generation of young women eager to balance work and family."
Keefe says she was given extraordinary insight into her subject by Benson's daughter and grandchildren. She was able to find them in Tucson, Ariz., and made several visits there to peruse the family's archives. One of the most interesting discoveries, she says, was the uncovering of Benson's file of "Bastards & Shysters," men who had done her wrong in terms of contracts.
At SUNY Maritime, the oldest and largest maritime college in the country, Keefe is an associate professor in the Humanities Department, a member of the Faculty Senate and the adviser of the Newman Club, one of many Catholic ministry organizations on non-Catholic campuses throughout the world.
She spent several summers on National Endowment for the Humanities fellowships at Cornell University, Regents College in London, Colgate University, Hollins College and University College in Galway, Ireland.
Article by Beth Thomas