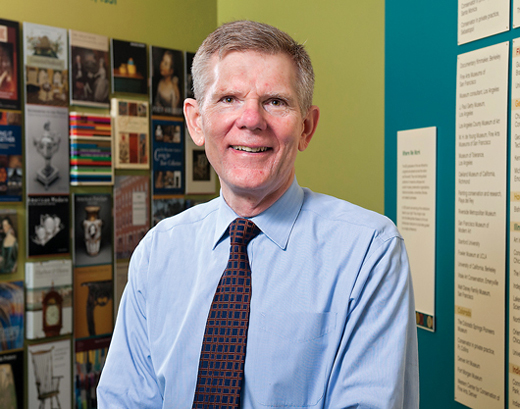 An authority on antiques
ALUMNI | Brock Jobe, AS76M, professor of American decorative arts in UD's Winterthur Program in American Material Culture, has received the 2014 Award of Merit from the Antiques Dealers' Association of America. The award is given to honor the recipient's outstanding contributions to the art and antiques field.
Association president Judith Livingston Loto, AS99M, one of Jobe's many former students, praised his "wonderful enthusiasm and single-mindedness" in announcing the award.
"He is encouraging, inclusive and supportive of younger scholars," she said. "I doubt that he knows how many people he has inspired, but he is a leader. If he is under a table inspecting its construction, a crowd gathers."
Jobe earned his master's degree from the Winterthur material culture program and went on to hold positions at Boston's Museum of Fine Arts; Colonial Williamsburg, where he was curator of exhibition buildings; and Historic New England Inc., where he was chief curator. He then returned to Winterthur, where he was deputy director of collections, conservation and interpretation before assuming the position of professor of American decorative arts in 2000.
He is the co-author of New England Furniture: The Colonial Era and oversaw the major publications Portsmouth Furniture: Masterworks from the New Hampshire Seacoast and Harbor & Home: Furniture of Southeastern Massachusetts, 1710-1850. Working with three students, Jobe curated a 2012-13 exhibit at Winterthur Museum that highlighted its six decades of working with UD to educate graduate students in material culture and art conservation.
Article by Judith Livingston Loto