VANCE FUNK, BE65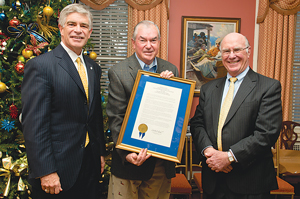 ALUMNI | Vance A. Funk III, BE65, who stepped down as mayor of Newark, Del., while serving his fourth term in office, was honored recently by the University's Board of Trustees and the UD Student Government Association (SGA) for his years of dedication to the campus community.
At a reception after the formal board meeting in December, A. Gilchrist Sparks, chairman of the Board of Trustees, presented a special resolution expressing gratitude to Funk for his "dedication and tireless efforts . . . to support and encourage strong, productive relationships between the city of Newark and the University of Delaware."
Elected to his first three-year term as mayor in 2004, Funk cited health and family considerations in deciding to resign at the end of 2013. He continues to live and to practice real estate law in Newark.
"As a fellow Blue Hen, Mayor Funk took time to connect with students," says SGA president Jessica Borcky. "On behalf of the student body, SGA wanted to recognize his support for students and efforts to improve the Newark community as a whole."
Funk's engagement with the University began before his tenure as mayor and continued throughout it. He regularly helped freshmen and their parents on Move-In Day, served as a volunteer on the Athletics Visiting Committee and the Athletics Fundraising Steering Committee during the campaign to build the Bob Carpenter Center, spoke at numerous events on campus, publicly recognized students for their community service and had a leadership role in the annual Taste of Newark festival.
In 2010, he received the Outstanding Alumni Award from the UD Alumni Association.