Geologist knows the drill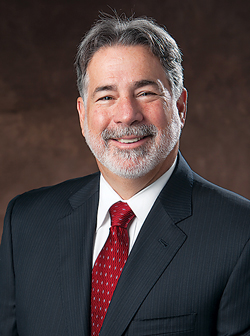 ALUMNI | The 1970s brought major changes to the energy sector. Oil production peaked in many countries, market volatility sent prices soaring, and gasoline was at times in short supply. Instability in the Middle East particularly motivated global companies to research new approaches to oil and gas exploration.
Such was the industry environment when Jim Demarest, EO78M, 81PhD, studied geology at UD and was recruited on campus by Exxon. He has since spent more than three decades in the field, helping put pioneering prospecting research into practice and facilitating some of the largest natural gas discoveries in the world.
Today, he says, the industry remains dynamic with job opportunities for geology graduates and an eye to exploration that minimizes environmental impacts.
Demarest's doctoral work focused on the stratigraphy, or rock layers, of ancient shorelines along the Delmarva Peninsula, inland of the modern coastline. He and other young geologists were influenced by the groundbreaking research of Exxon scientist Peter Vail, who showed that seismic data can reveal sea level changes in the geologic record. The findings shook the geological community and ultimately changed the way oil and gas prospecting was done. "It was a very exciting time in geology," Demarest says.
While at Exxon, he conducted basic research on global shifts in sea level that affected sediment deposition. The research took him to Saudi Arabia, Australia and western Europe, as well as the American oil patch.
"Ultimately what we were trying to do was predict how and where reservoirs would develop," he says. "If you could predict the location and shape, then you could predict where deposits would be."
Demarest went on to lead international oil and gas exploration at other companies. He traveled to China, Bolivia, Morocco, Peru and finally Indonesia, where he and his family lived for seven years.
Today, he is a Texas-based executive at Noble Energy and has played an integral role in major natural gas finds. Starting in 2009, the company uncovered very large quantities—to date nearly 40 trillion cubic feet—of gas offshore Israel and Cyprus, influencing the geopolitics there and enabling the two countries' future energy independence.
"These discoveries may have changed the world," Demarest says, pointing out the multidimensional nature of his profession with political, economic, legal, environmental and social aspects. "It's being part of something really big, bigger than just getting oil and gas out of the ground."
Just as the scientific methods in the energy industry have changed over time, so has an emphasis in exploration from oil to natural gas. The latter is seen as more environmentally friendly by producing fewer greenhouse gas emissions.
With wind, solar and other energy sources on the horizon, the industry continues to evolve. Today researchers in UD's College of Earth, Ocean, and Environment, in which the Department of Geological Sciences is now housed, are among those studying new energy possibilities, from offshore wind farms to electric vehicles that stabilize the power grid.
Still, Demarest sees oil and natural gas as a bridge to future options. The industry is very vibrant, he says, with many geology students joining efforts to tap oil and gas from shale. These computer-savvy, early-career geologists crunch huge amounts of geologic data that Demarest says his generation "couldn't even dream of."
"People who are graduating today will work in jobs at the end of their careers that don't exist today," he says. "Yet it's not about the job; it's about the skills and the difference that they're making."
Article by Teresa Messmore