ALUMNI BULLETIN BOARD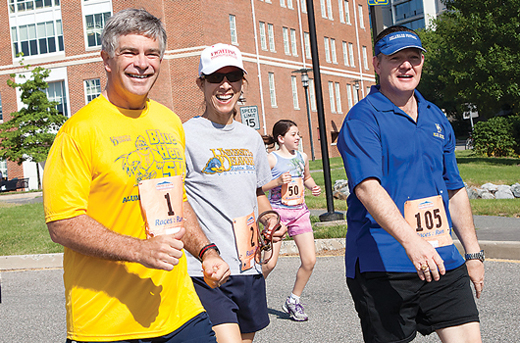 From our Alumni Association
Included in this Messenger issue is a brochure highlighting all the events taking place during the sixth annual Alumni Weekend. I strongly encourage you to come back to campus for this great weekend of reminiscing and fun with other alumni, friends and faculty. Above, you see me at last year's Alumni Weekend on the Blue Hen 5K course with Pat and Emily Harker.
If you have not been back to campus since the days when Springsteen played the Balloon, I'm sharing some information that might help you feel more at ease during your visit. You could hear someone refer to "the Ice Lab," but this is not where Chem E's study low-temp H2O. This new building on campus, the ISE Lab, is the Interdisciplinary Science and Engineering Laboratory—a facility that brings together students and faculty from various disciplines to teach, learn and conduct research.
You might also hear the term "the Star Campus." STAR stands for Science, Technology and Advanced Research and is the name for the site we more mature alumni refer to as the old Chrysler plant. Activities and tenants here focus on science, technology, engineering and clinical practice in areas ranging from biomedicine to alternative energy.
Lastly, I was surprised to discover how many alumni were not familiar with the term "Double Del." Double Dels are married and civil union couples where both partners are UD graduates. There are over 22,000 of us—about 15 percent of all Blue Hens! Hope you come back to campus and use your new knowledge soon.
Sincerely,
Kenneth C. Jones, BE80
President, UD Alumni Association
#BlueHensForever
Alumni, friends attend picture-perfect reception at New York Photo Ccenter
More than 125 alumni, students and friends of UD joined President Patrick Harker at the International Center of Photography the evening of Dec. 4 for a private reception at the New York City museum.
The event was hosted by the New York City Alumni Club and the UD Friends of Art History. A group of about 25 current students arrived by bus in a partnership with the University's Career Services Center.
Along with refreshments and the opportunity to stroll around the museum and view its exhibits, those attending the reception also were treated to classical violin music performed by graduate student Duo Shen, AS12, who is concertmaster of the UD Symphony Orchestra and winner of the UD concerto competition.
Harker spoke to the attendees, highlighting some of the University's pioneering and renowned programs in art history, as well as art conservation. He also spoke about the value UD places on the humanities in general, including art history.
"Understanding our history, including our cultural history, is crucial to defining who we are and why," Harker said. "The humanities give us a framework for considering the future against the backdrop of our past, our nature, our ideals and aspirations. And that's why the humanities are fundamental—not ornamental—to higher education."
Graduates in the humanities, and of UD's "signature" art history program, develop the kinds of analytical and communication skills that are essential to success in today's world, he said.
"With a marketplace as competitive as this one, these aren't soft skills; they're survival skills," Harker said.
The museum's chief curator, Brian Wallis, also spoke, giving an overview of the center's mission and exhibits. Before the main reception, he provided a private tour to a select group of UD donors.
Regional club events
The regional alumni clubs host events across the country throughout the year, some focused on professional networking and others on socializing or family fun. Below is a sampling of some coming events. For details of these and other events, and to register for any club events, please visit www.UDconnection.com/clubs.
Here is a small sampling of coming events.
Baltimore Alumni Club
August, summer crab feast
Sept. 13, New York Yankees v. Orioles
Boston Alumni Club

April 29, all-alumni reception with President Harker
July 1, Chicago Cubs v. Red Sox
Chicago Alumni Club
May 20, New York Yankees v. Cubs
Dallas Blue Hen City
July 12, Los Angeles Angels v. Texas Rangers
Denver Blue Hen City
Aug. 17, Cincinnati Reds v. Colorado Rockies
Florida (South) Alumni Club
May 3, Los Angeles Dodgers v. Miami Marlins
Houston Blue Hen City
July 13, Boston Red Sox v. Astros

Kent & Sussex Counties Alumni Club
August, UD Dewey Day, Dewey Beach, Del.
Aug. 22, Asheville Tourists v. Delmarva Shorebirds
Lancaster Alumni Club
May 8, brewery tour at Lancaster Brewing Co.
June 21, Les Misérables at the Fulton Theater with pre-show dinner
July 11, Long Island Ducks v. Lancaster Barnstormers
Lehigh Valley Alumni Club
June 21, Columbus Clippers v. Iron Pigs
Long Island Blue Hen City
June 21, Sugar Land Skeeters v. Ducks
Los Angeles Blue Hen City
June 6, Dela-bration Nation Alumni Weekend event
Aug. 2, Chicago Cubs v. Dodgers
Men's Crew Alumni Association
May 10, Dad Vail Regatta Alumni Tent
New Castle County Alumni Club
May 17, family bowling
July 12, Philadelphia Union soccer and tailgate
August, New Student Send-Off
New York City Alumni Club
June 22, Baltimore Orioles v. Yankees
Philadelphia Alumni Club
May 5, Toronto Blue Jays v. Phillies
strong>July 20, Philadelphia Soul indoor football
Phoenix Blue Hen City
April 25, Philadelphia Phillies v. Diamondbacks
June 6, Dela-bration Nation Alumni Weekend event
Pittsburgh Blue Hen City
June 29, New York Mets v. Pirates
July 17, happy hour and interest meeting, Shadyside
Aug. 30, UD v. Pitt, football game and tailgate
Reading (Pa.) Alumni Club
July 19, New Britain Rock Cats v. Reading Phillies
Richmond Alumni Club
Aug. 7, Binghamton Mets v. Flying Squirrels
San Diego Blue Hen City
June 6, Dela-bration Nation Alumni Weekend event
Late summer, day at Del Mar Race Track
Sept. 17, Philadelphia Phillies v. Padres
San Francisco Blue Hen City
June 6, Dela-bration Nation Alumni Weekend event
Aug. 17, Philadelphia Phillies v. Giants
Seattle Blue Hen City
June 6, Dela-bration Nation Alumni Weekend event
July 27, Baltimore Orioles v. Mariners
Washington, D.C., Alumni Club
May 17, Chicago Cubs v. Nationals
July, new student picnic
For a full list of alumni events nationwide, visit www.UDconnection.com/clubs.