Support for academics, athletics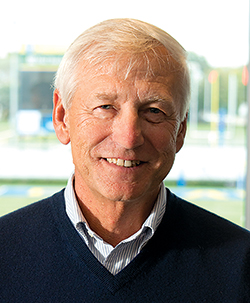 Photo by Lane McLauglin
SPORTS | Like many of his teammates from UD football teams—including the 1963 national champions who were recognized this year at Homecoming—Tom Van Grofski has continued his loyalty and involvement with the University and its athletics program.
Van Grofski, AS66, EH68M, of Chadds Ford, Pa., played quarterback on the '63 team and again in 1964, the team that, he notes proudly, opened the newly renovated and expanded Delaware Stadium field, and was captain of the Blue Hen baseball team. His wife, Jacqueline, AS63, was a cheerleader, although the two met after their student days.
"My wife had an academic scholarship to UD, and I got financial assistance as well," Tom Van Grofski says. "That help enabled us to get outstanding educations, and we wanted to help other students. We both really believe in the importance of education."
Established in 2005, the Thomas W. and Jacqueline Harding Van Grofski Scholarship provides financial assistance to a member of the football team who also is a student in the Lerner College of Business and Economics. This year's recipient is David Tinsley, a sophomore defensive lineman.
At this year's Homecoming reception, Van Grofski recalled "the leadership and depth of talent" on the '63 championship team. "We have such an accomplished group," he said. "They were really dedicated to athletics and also to academics."
Many of his teammates also continue their engagement with UD athletics and academics through involvement in a variety of programs and through financial support. Another '63 team member, John Wallace, AS64, with Barbara C. Wallace, has endowed the John E. Wallace Jr. Football Scholarship, established in 2005. Wallace, a Harvard Law School graduate, is a former New Jersey Supreme Court justice.
For all the latest UD athletic news, visit www.bluehens.com.
For more information about UD giving opportunities, visit www.udel.edu/giving.