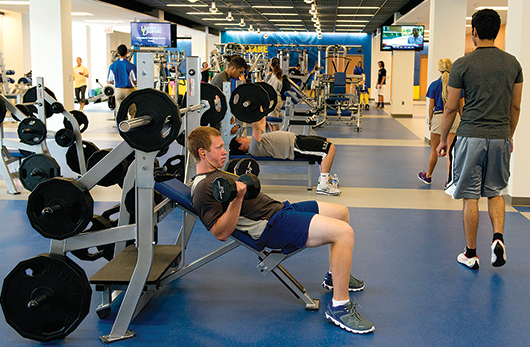 Lane McLaughlin
Not-so-Little Bob promotes fitness and fun
SPORTS | After a year and a half of construction to address a demand for enhanced recreation facilities on campus, a remodeled and expanded Carpenter Sports Building opened for business at the start of fall semester.
The showcase of the $25 million project is a three-story, 45,000-square-foot addition, complete with an indoor walking and jogging track and the latest in exercise equipment. The new 18,000-square-foot fitness area is more than three times the size of the old fitness area. It features more than 100 treadmills, stationary cycles and other exercise machines, as well as an indoor running track and a group exercise room.
"It's great to be able to present something like this to the UD community," Jacob Olkkola, associate athletic director for recreation services, says. "We are just thrilled, and we think that our student users are going to be very pleased with the resources we are offering."
The project came about after a Recreation Master Plan showed UD was falling behind its peers in terms of indoor and outdoor recreation facilities. Last year, Olkkola says, the sports building—dubbed The Little Bob to distinguish it from the 5,000-seat Bob Carpenter Sports/Convocation Center on South Campus—recorded 450,000 users. With the additional space and new equipment, officials have no doubt that number will rise.
"For years, students here at Delaware were very vocal about their desire for high-caliber recreational and fitness facilities on campus," says Athletic Director Eric Ziady.
The 167,000-square-foot building includes the Harry W. Rawstrom Natatorium, two gymnasiums, student and employee fitness centers, racquetball courts, a rock-climbing wall, locker rooms, and offices for the Division of Intercollegiate Athletics and Recreation staff and Department of Behavioral Health and Nutrition faculty.
Named in honor of R.R.M. Carpenter Sr., a former member of the Board of Trustees and longtime benefactor and supporter of the University, the facility hosts the UD men's and women's swimming and diving teams and serves club and intramural sports and recreational activities.
At an Aug. 26 ribbon-cutting ceremony for the completed project, UD President Patrick Harker thanked everyone who contributed, including students, administrators and architects. He also thanked the Carpenter family and the Unidel Foundation, which have supported the facility and its programs for decades.
"This is a community that recognizes the value of a healthy University," Harker said. "We understand the value of a space dedicated to getting us moving and active, away from our computers and phones and video games, getting us engaged with each other outside the classroom or the office, and to the sense of community that these things build."
Olkkola says the project is the culmination of listening to the needs and wants of student users and help from various units on campus.
"We included student focus groups in the project. The students voiced their concerns and we listened," he says.
Student Government Association President Jessica Borcky, a senior majoring in public policy, agrees that students' needs and desires were at the heart of the project.
"Not only was our comprehensive student fee put to good use through this project, but also our voices were heard along the way," she says. "New students are very fortunate to begin their UD careers with a new and improved recreation and athletic facility, and returning students will be amazed with the expansion and increased resources."
For all the latest UD athletic news, visit www.bluehens.com.