It's unanimous: Delle Donne named Rookie of the Year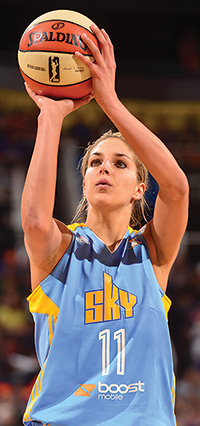 SPORTS | Former UD women's basketball standout and current Chicago Sky forward Elena Delle Donne was a unanimous selection for the 2013 WNBA Rookie of the Year Award.
"It is an incredible honor to be named Rookie of the Year," Delle Donne, EH13, said when the award was announced in September. "There is an unbelievable amount of rookie talent in the league this year, and I'm proud to be receiving this award. This is something that I could not have achieved without the help and support of my teammates and coaches both on and off the basketball court."
The No. 2 pick in April's WNBA draft, Delle Donne led all rookies in points (18.1 per game), free throw percentage (.929; 157-for-169), three-point field goal percentage (.438; 42-for-96) and minutes (31.4 per game) during the regular season. Overall, she led the league in free throw percentage while ranking second in three-point field goal percentage, fourth in scoring and fifth in blocks.
The first rookie to pick up the most votes in WNBA All-Star balloting, Delle Donne appeared in 30 games for Chicago, scoring in double digits in all but two. She helped the Sky to the best record in the East (24-10) and a franchise-first playoff berth.
For all the latest UD athletic news, visit www.bluehens.com.