New year to mark start of conference play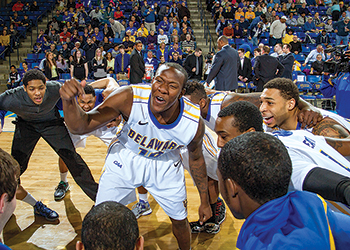 Mark Campbell
SPORTS | The men's and women's basketball teams begin conference play in early January, with each team scheduled for 16 Colonial Athletic Association matchups this season.
Both teams began 2013-14 in non-conference, away games on Nov. 8, with the men's first home game on Nov. 10 against Charleston Southern University and the women's on Nov. 12 against Temple. The men are playing 15 non-conference games, while the women's schedule includes 11 non-conference contests.
The schedule as initially announced was preliminary, with all CAA dates and times subject to change based on television schedules. For updates on both teams' schedules and game results, visit www.bluehens.com.
The Blue Hen men, led by eighth-year head coach Monté Ross, went 19-14 last season and advanced to the CAA Tournament semifinals for the first time since 2003. This year, they will play just 16 league games for the first time since the 1994-95 season, when the Hens competed in the North Atlantic Conference. UD will again face a challenging schedule, playing 16 contests against teams that participated in 2013 postseason tournaments.
The men's team kicks off its conference slate at home against Hofstra on Jan. 8. Following a road contest at James Madison on Jan. 11, the Blue Hens are back at the Bob Carpenter Center on Jan. 15 to host William & Mary. UD will host its final home game on Feb. 23.
The men's CAA Tournament will be March 7-10 at Baltimore Arena.
For the women's team, the road to a third consecutive CAA title will begin Jan. 5, when UD hosts Hofstra at the Bob Carpenter Center.
Led by Head Coach Tina Martin, now in her 18th season at the helm of the Blue Hens, UD is on a 42-game CAA winning streak (regular season and tournament play) dating to the 2011-12 season. This year, for the first time since the 1994-95 season, Delaware will play in fewer than 18 league matches.
After the conference opener with Hofstra, the Hens will head to Virginia to take on William & Mary on Jan. 9 and James Madison on Jan. 12. As the season nears its end, UD will again play James Madison and William & Mary, this time at home on Feb. 20 and Feb. 23, respectively. The regular season will wrap up in New England as the Blue Hens take on Northeastern on March 2.
The 2014 women's championship will be March 13-16 at The Show Place Arena in Upper Marlboro, Md.
For all the latest UD athletic news, visit www.bluehens.com.