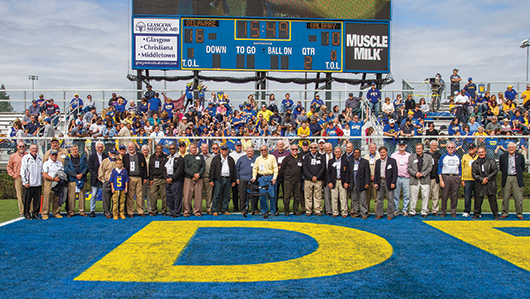 Photo by Mark Campbell
Half-century later, still a winning team
SPORTS | The six small stars displayed on each Blue Hen football player's uniform this season honor the six national championships UD has won over the years. And at Homecoming, many of the actual players who are represented by the second star in that group came out to be honored in person.
The undefeated 1963 team was feted at a series of reunion events on campus, including leading the current squad in a pregame march to the stadium, accompanied by cheerleaders, the UD Marching Band and spirit groups. A few wheelchairs stood ready for the returning athletes to use, but no one needed them.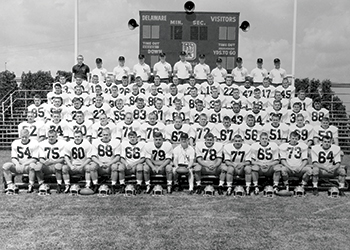 Alumni of the '63 season also were recognized on the field during halftime of the Oct. 12 Homecoming game, in which today's Blue Hens thrilled fans with a 33-30 win against Albany as time expired. Some members of the championship team have returned often to UD and have kept in touch with one another regularly, while others had the chance to see the campus and many of their friends for the first time in five decades.
"I live in Tulsa, and there aren't many Blue Hens out there," said Jack Istnick, BE65, recently retired from a career in computer technology, at a luncheon at the Bob Carpenter Center overlooking Delaware Stadium. "I missed the 25-year reunion, so I'm seeing guys I haven't seen for 48 years. But, you know, I'd recognize every one of them—what great memories we have."
His teammates agreed. Some 40 alumni came back for Homecoming, and as they reminisced, it was clear that their memories hadn't faded. They recalled personal anecdotes and individual plays from all eight of the games they won in their championship season.
It was a season that ended with mixed emotions—triumph on the field but tragedy for a nation whose president was assassinated the day before what was to be Delaware's ninth and final game. Sharing stories at Homecoming, teammates recalled boarding the bus to head to Bucknell for that game, scheduled for Saturday, Nov. 23, and arriving to soon learn about John F. Kennedy's death and the cancellation of the game. But even with the abruptly shortened season, UD's record spoke for itself, and the team was awarded the national title.
The consensus among the players today was clear: "Bucknell had a good team that year, but we would have won." After all, they said, they had already defeated some tough opponents, including Ohio University, where they played on Oct. 19 at the Bobcats' Homecoming game.
Ed Anderson, AS66, now a retired dentist who traveled to the Delaware reunion from his home in Michigan, recalled UD Coach Dave Nelson encouraging the team before the game that Ohio expected to win. "If we're going to win them all, we have to win this one," Anderson remembered Nelson saying. And the Blue Hens came through, shocking Ohio 29-12. Other members of the '63 team told similar stories about other successes of that season.
"It's amazing the little things you remember about everyone," said Dick Newman, who came from his home in Coral Gables, Fla., with his wife, Joyce McLaughlin Newman, HS66, who just happened to be the 1963 Homecoming queen. The two met as freshmen and now have been married for 46 years. Dick Newman didn't make it to the 25-year team reunion. He said he's regretted it ever since and appreciates the UD gave the team another chance to be recognized: "No way I was going to miss this one," he said. "It's important to build a tradition, not just for football but for the University." Mike Brown, HS64, a Hall of Famer who also ran track for UD, said he returns to campus regularly, especially now that he lives in Delaware again after many years in San Francisco. He and John Wallace, AS64, were roommates as students and were the only African-American players on the '63 team. The state of Delaware still displayed some of its racist past at the time and he recalled incidents such as a white teammate's outrage when Brown was told to leave a Main Street business.
"They were interesting times—things were just beginning to open up," said Brown, who went on to earn a master's degree in social work and to conduct racial awareness training for major corporate clients. "Sports helped me deal with some of the harsher realities of the time. I have a lot of good memories from sports."
In welcoming the team members back at a Homecoming pregame reception, Athletics Director Eric Ziady listed a few of their many accomplishments: More than half played two sports at UD; almost all played both offense and defense on the gridiron; four went on to become dentists, four lawyers, two judges, a heart surgeon and various corporate leaders; and at least five earned doctoral degrees.
Jay Gibbons, AS66, noted how much has changed on campus and in college sports. "But 50 years later, as different as the University of Delaware and football were, the tradition of excellence and dedication has never changed," he said.
For a photo album of the 1963 championship team's return to UD, visit www.bluehens.com/PhotoAlbum.
Article by Ann Manser, AS73
For all the latest UD athletic news, visit www.bluehens.com.