New bait a switch for horseshoe crabs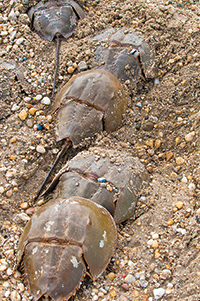 Doug Baker
RESEARCH | A new alternative bait product that will help reduce the number of horseshoe crabs harvested from the Delaware Bay has been introduced.
For years, commercial eel and whelk fishers have dealt with a dilemma: They know the best bait to attract eel and whelk, locally known as conch, is a female horseshoe crab. However, harvest limits are in place to protect the Delaware Bay's declining horseshoe crab population and the threatened migratory shorebirds that depend on their eggs for food.
The new bait came after years of research, which was spurred in part by the surprising fact that eel and whelk do not typically feed on adult horseshoe crabs in their natural environment, yet they find them hard to resist in baited pots.
That disconnect intrigued Nancy Targett, dean of the College of Earth, Ocean, and Environment, director of Delaware Sea Grant and an ecologist who studies the chemical cues that influence animal behavior in the sea. She and her research team set out to identify the mysterious "scent" that lures in eels, and as a result have developed a recipe for an artificial attractor.
"Our hope is that this new bait will meet the fishing community's needs and at the same time protect the horseshoe crab," Targett says.