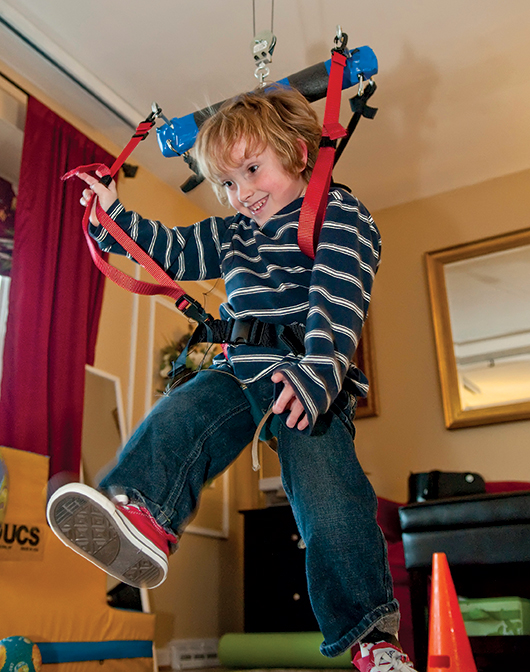 Photos by Doug Baker
Flights of joy
RESEARCH | Terri Pefley is pretty tolerant when it comes to chaos in her house. The mother of four is used to having a soccer net, a basketball hoop and a hockey goal in her living room, along with a chalkboard for keeping score. She's even OK with the harness that hangs from a system of metal rails installed in her living room ceiling.
Actually, Pefley is more than OK with the harness system because it symbolizes freedom for her youngest child, 6-year-old Andrew.
Andrew has spina bifida, and "Harness House" is the latest in a succession of devices and strategies the Pefley family has embraced to ensure that his life is as full of movement and fun and stimulation as a 6-year-old's life should be.
"For very young children, mobility is intricately connected to cognitive, social and emotional development," says Cole Galloway, professor of physical therapy at UD.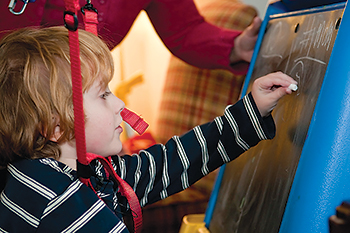 Galloway is rapidly becoming an icon in the world of pediatric mobility with his GoBabyGo program, which over the years has encompassed mobile robots, modified off-the-shelf toy racecars and now harness systems that support part of the child's weight so that he or she can walk, jump and, yes, even fly.
Galloway is a master at collaborating with others to advance the cause of pediatric mobility. He has worked with educators and engineers, parents and grandparents, preschools and toy stores, in developing and testing devices designed to get kids moving early and often.
For Harness House, he teamed with engineers at Accudyne, a Newark, Del.-based company whose slogan is "We solve physics problems."
Enabling a 6-year-old who can't walk on his own to safely navigate the family living room is certainly a physics problem, and Galloway and Pefley are both thrilled with how Accudyne solved it.
"As an occupational therapist, I'm all about purposeful activity for both play and real life," Pefley says. "I want Andrew to not only have fun but also contribute to family life by doing chores.
"It's tough to set the table or empty the dishwasher if you're on crutches or in a power chair. Harness House frees his arms so that he can do more on his own, which is very empowering. It would be great if we could extend the system from one room to another so that Andrew could take himself to the bathroom or go to the kitchen for a snack."
Parents' wishes are Galloway's commands, and he is already working on bigger and better versions of Harness House for gyms and playgrounds. For now, the Pefley family is happy with the rewards Andrew has reaped from having full access to any spot within the 100 square feet encompassed by Harness House.
"It's difficult for kids who can't walk to get a good cardiovascular workout," Pefley says, "but after two hours in the harness, he's sweating and his heart rate is up. Even more important is that he likes it—this approach scores a 10 on the Fun-o-Meter. We've also found that his standing balance has increased from just about zero to several seconds."
She's just as excited about what Harness House has done for her son emotionally and socially: "Andrew has always been afraid of falling," she says. "This has given him the confidence to be reckless and daring, and it's enabled him to play on a more equal footing with his sister and brothers and with his peers."
Last winter, Andrew played ice hockey at UD using a special sled.
"Someday we're going to get him standing up on skates," his mother says. "That's his passion, and I want to help him realize it."
And for Galloway, having kids realize their passions is what keeps GoBabyGo going.
Article by Diane Kukich, AS73, 84M