Fighting pollution with hardy algae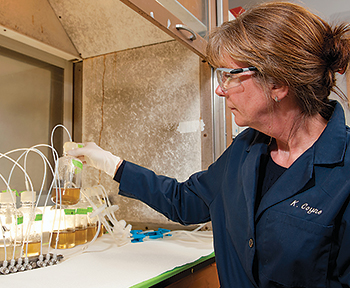 Photo by Kathy F. Atkinson
RESEARCH | A hardy algae species is showing promise in both reducing power plant pollution and making biofuel, based on new research at UD. The microscopic Heterosigma akashiwo grows rapidly on a gas mixture that has the same carbon dioxide and nitric oxide content as emissions released from a power plant.
"The algae thrive on the gas," Kathryn Coyne, associate professor of marine biosciences and an expert in algal blooms, says. "They grow twice as fast, and the cells are much larger in size compared to when growing without gas treatment."
The algae also make large amounts of carbohydrates, which can be converted into bioethanol to fuel vehicles. The findings could have industrial applications as a cost-effective way to cut greenhouse gas pollution when paired with biofuel production.
Heterosigma akashiwo, which is found worldwide in the natural environment, does not need any additional nitrogen sources beyond nitric oxide to grow, which could significantly reduce costs for raising algae for biofuel production.
"This alone could save up to 45 percent of the required energy input to grow algae for biofuels," Coyne says.