NASA telescope reveals a dwarf star with flare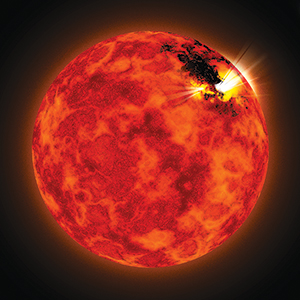 Illustration by Rob Gizis
RESEARCH | Astronomer John Gizis, working with data obtained over two years by NASA's Kepler telescope, is studying a highly unusual dwarf star and its powerful flares that may hold clues to the likelihood of life on other planets as well as to the behavior of our sun.
Known as an L-dwarf, this coolest type of star is 53 light years from Earth. Once a week or so, the star flares, heating up from its usual 3,700 degrees Fahrenheit to about 14,000 degrees in just three minutes, and then slowly cooling again.
"We saw these white-light flares, which were a first for such a cool star," says Gizis, associate professor of physics and astronomy. "We hope we can use what we're learning to understand what's happening with our sun—how flares work there and how magnetic fields in stars behave."
In addition, he says, the powerful flares may indicate that conditions for life on other planets near such activity are more dangerous than previously thought. Kepler, the NASA mission subtitled "A Search for Habitable Planets," launched in 2009 and orbited the sun, focusing on a single, large section of sky containing some 160,000 stars.