Constitution Day celebrates a legacy of service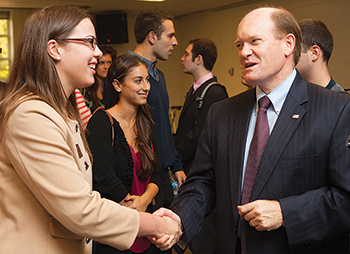 Ambre Alexander
ON THE GREEN | Though she never took a class from the late James R. Soles, Brenda Mayrack, AS00, learned some life lessons from the beloved UD professor of political science.
She also became a part of his legacy, which was honored on campus in September as part of the third annual Constitution Day James R. Soles Lecture on the Constitutionand Citizenship.
U.S. Sen. Chris Coons of Delaware delivered the lecture, connecting 226 years of constitutional history to events relevant to today.
Like a family patriarch, Soles' passion for public service has given rise to an ever-growing number of UD alumni connected by a shared commitment to community engagement. Many of them gathered for the lecture, joined by University President Patrick Harker and Provost Domenico Grasso.
After graduating with dual undergraduate degrees in international relations and women's studies, Mayrack joined the Soles public service family by becoming the third James R. Soles Fellow. She fulfilled her fellowship at the Washington, D.C.-based Center for Public Integrity, founded by fellow UD alumnus Charles Lewis, AS75, spending seven months writing investigative journalism stories connected to the then-new Bush administration.
Now, Mayrack works as an attorney in Wilmington, Del., where she also volunteers for local political campaigns and helps get UD students involved, paying Soles' values forward. "His legacy lives on," she says, because those he touched continue to give back and pass on his commitment to serve their communities.
Coons began his lecture by joking that he was the bronze medal of invited speakers for the celebration; previous Constitution Day lecturers at UD were Vice President Joe Biden and another longtime Delaware political figure, U.S. Sen. Tom Carper.
Coons recalled the last time he saw Soles before his death in 2010. It was at a campaign fundraising party Soles held at his Newark home on Coons' behalf.
"He was the professor who always had his office hours open," Coons said, referring to himself as the junior student, seeking advice from Soles on how to balance family life with his career in the public and private sectors.
His memories led into a reflection on the Constitution—Soles found heroes in some of its authors—and how some of the big questions both then and today were left unanswered.
More than two centuries ago, privacy, security and liberty were of primary concern to Americans, just as they are today. Coons provided commentary on National Security Agency surveillance of American phone records and on the tensions in Syria around the country's use of chemical weapons on its people.
And he discussed citizenship and civic responsibility, addressing the millennial generation, "the tail end of whom are in this room" and who have the "prospect of being the greatest generation."
The gridlock they have witnessed in Congress most of their young adult lives, the wars the country has been involved in since many of them were in middle school, have done damage, Coons said, and many are shunning public service as elected officials. At the same time, millennials are volunteering in record numbers.
"We have to be a more engaged, a more committed and a more civil society," Coons said. "It's not just paying taxes, serving your jury duty and voting, but it's also knowing who you vote for and conveying your thoughts in a constructive, meaningful way."
Coons looked around the room, at the growing "family tree" planted by Soles and the young faces of those who never met him but have nevertheless been touched by him: "We need you to take up the cause of civil engagement and breathe life into the body of the Constitution."
That's what Jim Soles stood for.
Article by Kelly April Tyrrell