Finding her wings as a Blue Hen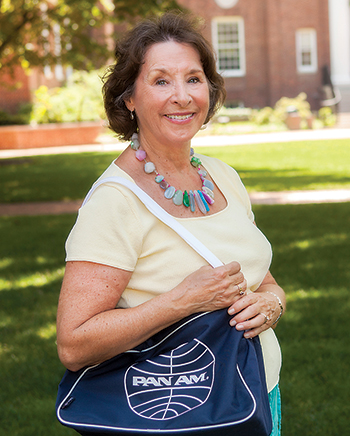 Ambre Alexander
ON THE GREEN | After jetting around the globe as a glamorous 1960s Pan American World Airways stewardess (well before the term "flight attendant" came into use), Betty Riegel currently soars as a University of Delaware undergraduate student.
Riegel, now in her 70s, worked as a secretary immediately after graduating high school in 1955, a time when many women did not attend college. At UD, she says, she can now fulfill her lifelong ambition of obtaining a college degree.
"Now, at this time in my life when there are more choices, it seemed natural for me to take advantage of the great program in Delaware permitting people over the age of 60 to attend free of charge—except the books, of course," Riegel says. "I sent in my application and was thrilled to have been accepted at the University of Delaware."
Senior adults who are residents of Delaware and matriculated students at UD can take credit courses on a space-available basis without paying tuition.
Riegel did not immediately declare a major, but she nurtures an interest in the liberal arts. She often draws on her Pan Am experience in her coursework, but also acquires knowledge on less familiar topics.
"My lifetime experiences, as a whole, have all contributed to my studies," she says. "I'm honestly surprised at how much I have retained but also how much I need to know."
Selected from a highly competitive applicant pool in 1961, Riegel met the tough entry requirements and trained as one of 17 British Pan Am stewardesses. She developed many and varied skills, including a knowledge of safety procedures, high-end cosmetology practices and multiple-course meal preparations, all put to use while practicing proper stewardess etiquette. She also tended to a wide array of passengers including royals and such celebrities as Cary Grant and the Mamas and the Papas.
Reminiscing about her luxurious lifestyle with Pan Am, Riegel wrote the book Up in the Air, now published in the United Kingdom and many Commonwealth countries. It describes her personal experiences with Pan Am's iconic top-of-the-line services. Her Pan Am job, filled with both glamorous tasks and many demanding responsibilities, broadened her educational and experiential knowledge of the world, she says.
But she wanted a deeper academic background and so started taking classes at UD in 2009. She says she approaches her coursework with fervor and curiosity, while also balancing her role as a student with her domestic life as a wife and mother.
"Studying for exams means my husband will sometimes come up with dinner for us," Riegel says. "[Balance] can sometimes be rather difficult, but my sons are having a great time, telling me to do my homework and asking me about my grades. I think they are proud that I am doing this."
She says she generally keeps to herself in the classroom but loves engaging with fellow students and contributing to the academic atmosphere. With her unique experiences, she acts not only as a University student, but also as a role model to the campus community.
"Make the most of this opportunity," she tells her younger counterparts. "Savor the experience of choosing from so many different courses, and definitely take advantage of study abroad offerings. [They] will broaden your outlook completely.
"Also, always remember to be friendly to the 'wrinklies' in your classes. [They] may be someone's mother or even grandmother."
Article by Laura Hepp, AS16