Blast from the past on 'Old School'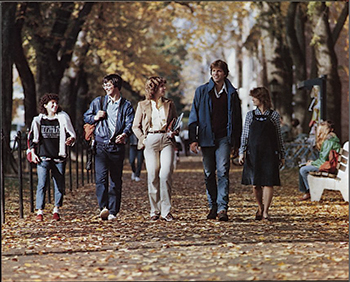 The University—long renowned for its beautiful campus and spirited students—now has the photos to prove it, on display on UD's Pinterest page.
The "Old School" Pinterest board, which launched in July, showcases photos from the UD Library's database of yearbooks dating all the way back to 1888. Followers can see how fashion trends, sports jerseys and Main Street hotspots have changed over the past 100 years, while some traditions, such as tailgating and hanging out on The Green (no matter what students of other eras called it), never go out of style.
"The University of Delaware Pinterest page is a visual collage of all things UD," says Kelley Bregenzer, of the Office of Communications and Marketing. "The University boasts such a rich history and culture that it's impossible to capture the essence of UD without including images from the past. The 'Old School' board is a fun way to compare campus life from previous decades with the present."
UD's social media team plans to update the board every week for Throwback Thursday, a social media trend in which users post a photo from the past every Thursday using the hashtag #TBT.
Community members who would like to contribute their own photos to the "Old School" Pinterest board can email socialmedia@udel.edu for details.