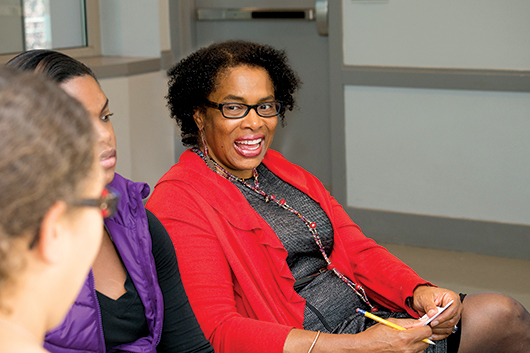 Photo above by Lane McLaughlin
Full Circle
Whitneys' gift takes excellence into account
ON THE GREEN | Kenneth C. Whitney and his wife, Elizabeth K. Whitney, are passionate scholarship supporters.
"Of all the giving we do, the kind that gives us the most satisfaction is giving to scholarships," says Ken, BE80, a senior adviser at Blackstone and a member of the UD Board of Trustees. "The notes we get from the recipients, in terms of how life-changing those scholarships are—those are very gratifying to us. In several situations, these kids would not have been able to go to that school without that scholarship."
In 2011, as they prepared to make a new and substantial gift to UD, the Whitneys made an unexpected decision. After allocating a portion of the gift to their existing undergraduate scholarship endowment, they decided to ask the University how the institution would choose to allocate the remaining funds.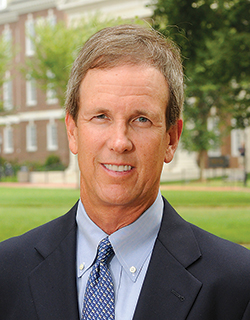 "I asked Pat [University President Pat Harker], 'If the University had its discretion, what would you want to do with the money?'" says Ken. "He said that a key thing needed to take UD to the next level was the ability to attract more great professors to campus. Given the choice, he said he would prefer to use the additional money to endow a faculty chair. I thought that was a great idea."
The result was the creation of the Whitney Family Chair in Accounting. It is the first endowed professorship established in the Lerner College of Business and Economics' Department of Accounting and Management Information Systems.
In August, the Whitneys' investment was fulfilled when the University welcomed Jennifer R. Joe to campus as the first Whitney Family Chair in Accounting. Joe, previously an associate professor at the J. Mack Robinson College of Business at Georgia State University, brings a wealth of experience to UD.
Joe earned her bachelor of business administration degree in accounting magna cum laude from Baruch College in New York and received her doctorate in accounting from the University of Pittsburgh. In 2000, she was awarded the Outstanding Dissertation Award from the Accounting Behavior and Organizations Section of the American Accounting Association. Her research on auditing, audit quality and auditors' judgments has led to publications in the leading journals in the field, including The Accounting Review and the Journal of Accounting Research.
Joe also earned her certified public accountant (CPA) qualification and has worked as both an auditor and audit principal. In the classroom, she draws on her experiences as an accounting clerk, accounting analyst, public accountant and internal auditor to help students see the connection between research and the accounting profession.
Though her time on campus has been short, Joe says she has developed a positive impression of UD.
"There is warmth and a sense of community that is contagious," she says. "Everyone is proud to be a member of the UD community, but not in the rabid fanatical way. Rather, students and faculty enjoy a quiet sense of pride that is charming.
"During my initial weeks on campus, a student issued an enthusiastic, 'Welcome to campus,' indicated that he had read my profile in UDaily [the University's news website], and wished me a rewarding experience at UD. That was a 'career first'; I have never been welcomed by a student before."
Joe had the opportunity to meet Ken Whitney in October when he came to campus to hear her speak at the Whitney Family Chair Inaugural Lecture. Joe is both grateful for the Whitneys' support and keenly aware of its importance.
"The tremendous good that comes from the generosity of the Whitneys and other like-minded donors cannot be underscored enough," she says. "Like most universities of renown, UD depends largely on the generosity of its alumni and friends to fulfill its mission. Faculty are integral to the University's achievement of its goals, and contributing specifically for faculty development leads to a ripple effect that benefits not just UD, but also the wider community."
During spring semester 2014, Joe is scheduled to teach UD courses at both the undergraduate (an introductory course in financial accounting) and graduate (auditing) levels.
Article by Shannon Pote
For more information on UD giving opportunities, visit www.udel.edu/giving.