Commitment to community engagement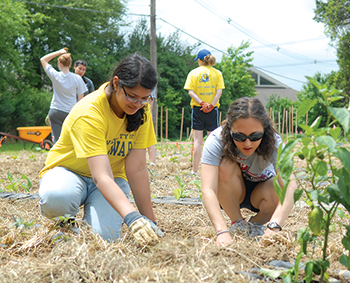 Photo by Danielle Quigley
ON THE GREEN | As a land-grant, sea-grant, space-grant University and the only comprehensive university in a small state, UD is already recognized as highly engaged in its community.
Now, a special task force has been formed to gather and organize information about this engagement as the University prepares to apply for the Carnegie Foundation for the Advancement of Teaching's Community Engagement classification. A goal is to refine UD's model of an "Engaged University," one of six milestones in the Path to Prominence strategic plan, for the application.
With materials due to the foundation in April, the task force has been reaching out to many constituencies on and off campus since the start of fall semester.
"Among the University of Delaware's greatest strengths is its long tradition of public service," says President Patrick Harker. "As the largest university in a nationally and internationally important state, we have the opportunity to work closely with public and nonprofit organizations in Delaware, the region and across the globe, applying research and human talent to address pressing social and civic issues while preparing our students as educated, engaged citizens."
Lynnette Overby, director of the Office of Undergraduate Research and Experiential Learning, chairs the task force.
"Prof. Overby has a deep commitment to community research and service, and I am delighted that she has accepted leadership of this important University-wide effort," says Provost Domenico Grasso.
"The process for preparing an application for Carnegie Engaged University classification will be a productive way for UD to review its commitment to community engagement and consider how well our policies, procedures and curricular offerings align with our aspirations."
Unlike the Carnegie Foundation's other classifications that rely on national data, this is an elective classification. Institutions choose to participate by submitting required documentation describing the nature and extent of their engagements with the community.
"The University has a rich tradition of working in partnership with a variety of groups and organizations in Delaware and across the globe, and this task force is developing ways of measuring these involvements on a systematic and ongoing basis," Grasso said in a letter to faculty and staff members.
Gathering information and applying for the classification "will require a substantial effort from the University," Harker says.
At a Constitution Day event on campus in September, Dan Rich, University Professor of Public Policy and a member of the task force, spoke about the importance of public engagement and the Carnegie classification.
"Our faculty, staff and students are engaged in all sectors of our community and involved with virtually every public issue and priority, from economic development and job creation to water quality, health improvement, community development, cultural enrichment and all facets of education from early childhood to lifelong learning," Rich said.
"In terms of our impact on the communities we serve, UD is the most public of universities, and the scope of our engagement is growing every year far beyond the borders of our home state to our region, our nation and, increasingly, to the global community."
Earning the classification, he said, will enable UD to make its engagement more visible and more widely recognized and will "mobilize our entire campus community to an even higher level of community engagement."
In the most recent selection process, in 2010, the Carnegie Foundation conferred the Community Engagement classification on 115 U.S. colleges and universities.
Carnegie's Community Engagement classification is evaluated and awarded on a five-year cycle. The next opportunity for classification is 2015.