Fans take note of new uniforms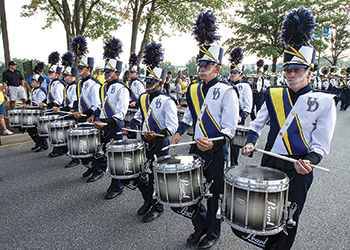 Photo by Mark Campbell
ON THE GREEN | In keeping with the kickoff of a new era of football at Delaware Stadium, the UD Marching Band began sporting brand-new uniforms this fall. Described as "edgy" by Heidi Sarver, the band's director and an associate professor of music, the ensembles display the same color spectrum as previous uniforms but replace the former curved lines with hard angles.
Although the design is fresh, Sarver notes that the uniforms also connect to the past via their capes and sashes, with the familiar dark navy background providing a neutral color from which the UD royal blue and yellow can pop.
"Additions that speak to current uniform trends are captured by the uniform concept seen in the sash now showing up on the hat," Sarver says. "The small personal touches are there as well, with 'Hens' appearing on the back brim of each hat and in script on one of the sleeves."
The trademark interlocking "UD" on the left front chest area assures Blue Hen fans that while the new uniforms are contemporary, they keep the collegiate look that the band is known for, says Sarver, now in her 19th season as director.
With 336 members, this year's marching band represents one of the three largest in University history. In one of several new traditions this football season, fans were invited to remain after each home game to join the team and the band in singing the alma mater.
Sarver says such rituals unite students with one another and also with the fans.