Teacher makes history with national award
ALUMNI | Jill Szymanski, EH97, 02M, a fourth-grade teacher at Brandywine Springs Elementary School near Wilmington, Del., has been named the 2013 National History Teacher of the Year.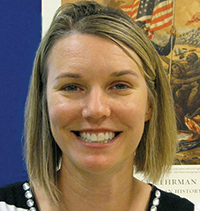 Awarded by the Gilder Lerhman Institute of American History, the award has been presented since 2004 to full-time K-12 educators who teach American history either as an individual subject or through social studies, reading, language arts and other subjects. Judges, who selected Szymanski from a pool of teachers from 49 states, the District of Columbia and Department of Defense schools, recognized her commitment to pushing her students to think critically about history.
A teacher for 16 years, Szymanski is the first Delawarean to win the national honor. She integrates extensive class projects, visits Civil War sites and explores important and interesting figures in history, such as Henry (Box) Brown, a Virginia slave who obtained his freedom by mailing himself in a box to the free city of Philadelphia in 1849.
"First and foremost I want my students to see history as something that is interesting, not just a bunch of facts," she says. "History also involves interpretations that are sometimes different and that people arrive at based on their analyses of evidence."
The project that Szymanski submitted for the national award incorporated resources and teaching strategies she developed during her participation in UD's Teaching American History grant's Freedom Project. The three-year grant partners UD with Delaware's Red Clay and Christina school districts to increase levels of student achievement by improving classroom instruction in American history.