National monument a first for First State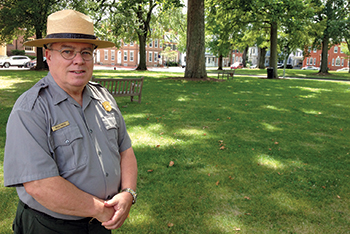 Chris Flood photo, courtesy Delaware State News
ALUMNI | A presidential proclamation last spring that gave the state of Delaware its first designated national monument also gave Russell Smith his dream job, capping a 40-year career with the National Park Service.
Soon after Smith, AS71, earned his bachelor's degree in history, he joined the park service. Over the years, he worked at national parks and national monuments in locations including Philadelphia and South Carolina. His most recent position before coming home to Delaware was at the Fredericksburg and Spotsylvania National Military Park in Virginia.
The First State National Monument, part of the National Park Service, was created in March when President Obama signed a proclamation establishing such monuments in five states. The White House says the sites "help tell the story of significant people and extraordinary events in American history, as well as protect unique natural resources for the benefit of all Americans."
The First State National Monument consists of the New Castle Courthouse Museum and The Green in New Castle, the Woodlawn Tract natural area north of Wilmington, and The Green in Dover. Smith, whose first academic interest was Delaware history, expects to spend about three years establishing a management plan for the sites that make up the National Monument so that visitors will learn as much as possible about the state.
"I want to tell the stories local folks don't know," he told the Delaware State News in an August interview.