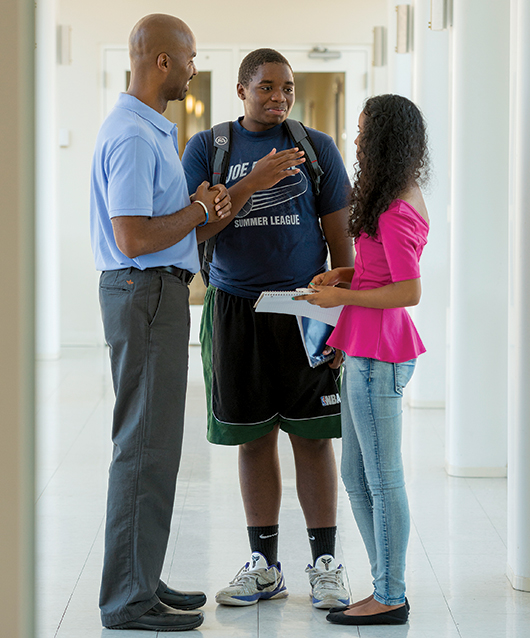 Kathy F. Atkinson
Prepped for success Principal steps up to help Rising Scholars
ALUMNI | What if he could start a program that not only helped his students build that vision of college and careers but also prepared them to get there?
When Edward Small, EH99, graduated from Philadelphia's Overbrook High School in 1995, the valedictorian of his class wasn't even offered a scholarship to college. Although she did manage to attend college, she had to finance her own education.
This made a strong impression on Small, who questioned why her academic success hadn't led to a smooth path to higher education. He also wondered what he, an aspiring educator, could do to ensure that bright, capable students gained the confidence and the tools they needed to apply, enroll and graduate from college.
Small obtained his doctorate and became a principal at Academy Park High School in Sharon Hill, Pa., near Philadelphia, in 2010. He decided to make it his life's work to see that his students have a great education.
One evening, a few months into his tenure, Small went bowling with friends. During the game he started talking to William Marshall, AS99, whom he had known since their sophomore year at UD. Small confessed that he was struggling to find a way to reach his students. Many came from difficult backgrounds and had trouble thinking beyond their years in high school.
He felt he was missing that "thing" that would motivate his students. "Sure, kids wanted to pass the tests and please their parents, but they often couldn't visualize the benefits their hard work could bring," he says. "It's the difference between just being motivated to get an A versus getting an A because you want to go to medical school and become a doctor."
Marshall, who is an academic program coordinator for UD's Academic Enrichment Center, understood these challenges. He had worked with first-generation college students through the University's Upward Bound program, assisting them with the transition to college and beyond. He found that many of these students did not know what to ask in order to find out more about the college experience. They had a difficult time imagining what life could be like beyond high school and outside their communities.
Small wondered: What if he could start a program at Academy Park that not only helped his students build that vision of college and careers but also prepared them to get there?
In the winter of 2010, with the help of a school district grant, Small created the Rising Scholars program, with a Saturday School component. About 80 students registered to learn skills that would help them through high school and into college. Every other Saturday during the school year, students attended sessions to learn about decision-making, leadership, state test preparation, SAT preparation, applying to college and college life.
"Our students often juggle their academics with jobs and family responsibilities, so not all students participate each time," Small says. "But getting 80 high school students to wake up early every other Saturday and come to school was an amazing feat in itself."
The classes addressed only half of the issue, he says, so to make the transition from high school to college easier to imagine, he decided to give his students an in-depth look at higher education. This summer, as he has done for three years, Small brought his Academy Park students to UD, where he coordinates team-building and social activities while providing them information on academic and student life and career exploration.
"This is where the goal of the program really comes to life," he says.
Each year, 100 or so students enroll in Rising Scholars, with about half choosing to attend the overnight visit to UD. This year, Small had 130 in the program, and 57 visited the campus. From Aug. 1-5, his students stayed in the Independence complex, ate in the dining halls and studied in the UD library—just like college students. They also attended classes taught by their high school teachers, college professors and others, including Marshall, who taught a criminal justice class.
The Rising Scholars program has created a noticeable ripple effect in his school, Small says: "We have over 100 students acting as examples for others. Rising Scholars are role models. They have a saying in the group, 'Once a Rising Scholar, always a Rising Scholar.'"
The students believe it. Over the past three years, 250 have participated, and all the graduating seniors have gone on to college, including 14 students in the Class of 2013. One student, Verna Brown, is now a freshman computer engineering major at UD.
Keyon Crum, a sophomore at Lock Haven (Pa.) University, came to Delaware to help with the campus visit in August. He couldn't keep the smile off his face as he talked about his first year as a psychology major.
"It was amazing," he said. "I am looking toward doing research as an undergrad and already thinking about grad school."
Article by Christina Mason Johnston, AS95, 00M