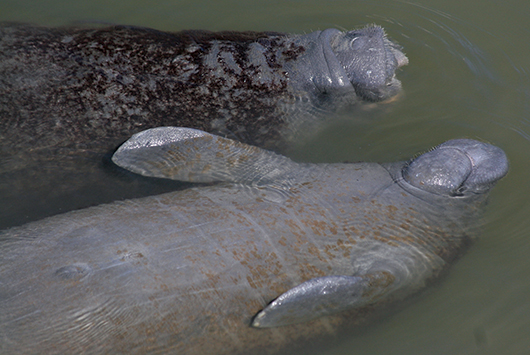 Photos courtesy of Megan Martz
Conservationists rely on picture-perfect ID
ALUMNI | Megan Martz works with a photo ID program, but not the kind that's been in the news recently. Her subjects are manatees, the half-ton aquatic mammals sometimes informally called sea cows, and Martz, AG00, is part of a conservation program in Florida that seeks to help the endangered species survive.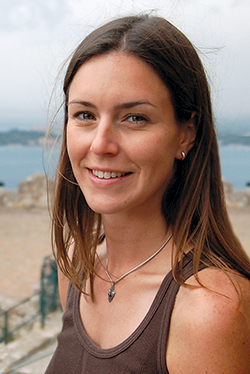 After graduating from UD and looking for internships in entomology, Martz wanted a little variety. So when she saw an internship opportunity in St. Petersburg at the Florida Fish and Wildlife Conservation Commission (FWC), this one involving manatees rather than insects, she applied. As luck would have it, the FWC was the first potential employer to answer her internship query, and now—more than 10 years later—Martz is still working with the marine mammals.
Today, she works as a research technician for the research arm of the FWC in the manatee photo identification program. Unlike many other marine mammal species, whose individuals can be identified by a single feature like tails or fins, manatees are identified based on the animals' particular scar patterns or mutilations, often caused by encounters with watercraft. Because these features can appear on all parts of a manatee's body and might be disguised by algae, barnacles or new scars, the identification process is done manually.
Each manatee is unique, with specific markings that vary, Martz says. "There's definitely a wide variety of complexity," she adds. "Some animals just have very simple little tiny things, and other animals you can spy 100 yards away because they are so distinct." The photos of the manatees are taken by staff members and also by volunteers who go out into the field. The pictures are then compiled into a statewide catalog.
Using photo identification, researchers are able to learn about individuals' habitat use, site-fidelity, reproductive rates, scar acquisition, and long-term movement patterns. Ultimately, they seek to noninvasively assess the survivorship of the adult population, information that directly affects management decisions.
With no known predators, manatees' biggest threat come from humans.
The animals are long-lived, have a slow reproductive rate and face an ever-growing human population. And while management efforts throughout Florida and neighboring states have helped to slow habitat loss and watercraft deaths, the manatee population has recently been additionally hit hard with two unusually cold winters and a prolonged red tide, or algal, bloom this past spring—each event taking out multiple hundreds from a population estimated to be around 5,000-6,000. From Jan. 1 to Aug. 9 this year, 717 manatee carcasses were recovered in Florida waters.
Martz says she always wanted to work with animals and chose to attend UD because it offered her many options. Now that her path has led her right where she always wanted to be, she says she is glad that she gets to help animals through the photo identification program.
"It's a giant, ever-growing puzzle with thousands of new pieces each year," she says. "And being able to recognize animals that I've known for this long is definitely a cool thing."
Article by Adam Thomas