Military professional promoted to brigadier general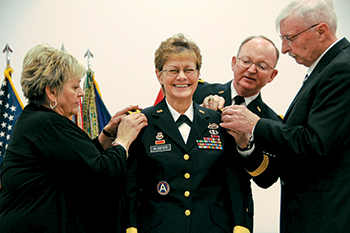 Photo courtesy Defense Video and Imagery Distribution System
ALUMNI | Mikey Kloster, already a professional trailblazer in her years of military service, has been promoted to brigadier general in the Army Reserve, becoming the first woman to command a Reserve training division.
Promoted during a ceremony in April, Kloster, AS84, commands the Army Reserve's 98th Training Division at Fort Benning, Ga. Earlier in her career, she served as Fort Benning's first female general officer and first female division commander.
"In the big picture, I don't need the label of being 'the first.' I'm just happy to have the opportunity to do what I'm doing," she says. "I'm really humbled and honored to be able to do this—to continue to serve."
Kloster was at UD studying to be a high school history teacher when she learned about ROTC and decided to join in her junior year. She went on to be named the Class of 1984 Distinguished Military Graduate and was commissioned that year as a second lieutenant in the Adjutant General Corps.
She served on active duty in locations including Rheinberg, Germany, and in 1992 assumed command of the largest company in the U.S. Army, Headquarters Company at Fort Leavenworth, Kan. Kloster left active duty in 1993 and served with the Delaware and Kansas national guards before joining the Army Reserve in 2000.
With the Reserve, she was promoted to battalion commander and took part in Operation Iraqi Freedom in Kuwait and Iraq. Her awards include the Legion of Merit, Bronze Star, the Army Commendation and Achievement medals, Meritorious Service Medal, Parachute Badge and Combat Badge.
In addition to her bachelor's degree in history from UD, she holds a doctorate in business administration and a master's degree in management.