Equipping U.S. soldiers, from helmets to humvees
ALUMNI | When Harry Hallock, BE79, offered to give a fellow UD student a ride to take a federal civil service job test, he had no idea it would eventually lead to his new position in the Pentagon as the Army's top civilian procurement officer.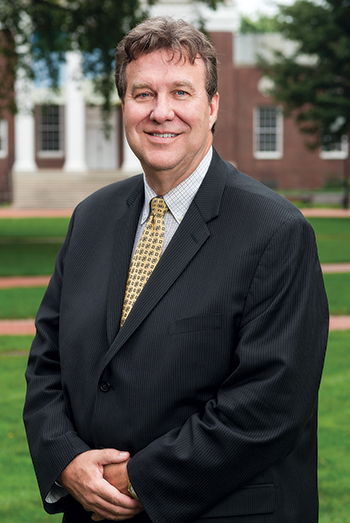 Evan Krape
A Delawarean since age 3, when his father was stationed at Dover Air Force Base, Hallock recently was named deputy assistant secretary of the Army (procurement).
Reporting directly to the assistant secretary of the Army (acquisition, logistics and technology), Hallock directs more than 270 Army contracting offices worldwide, working to see that the American soldier is equipped with everything from MREs (meals ready to eat), to canteens, helmets, uniforms and sophisticated weapons and transportation systems. For the 2012 fiscal year, his position oversaw nearly 412,000 contract actions valued at more than $108 billion.
"I got started in this business while I was a student at UD," says Hallock of his 33-year civilian Army career. "A friend of mine needed a ride to Wilmington where she was going to take the Professional and Administrative Career Examination given by the federal government in those days. I was waiting outside the test area, when the test facilitator suggested that I might like to take the test myself."
Hallock took the test but didn't give much thought to the results until he received a letter saying he was being considered for an entry-level position in Army procurement.
"I called the number listed in the letter and was asked if I would be willing to work in Warren, Mich.," he says. "I went to Philadelphia for the interview and got the job. When I got to Warren, I found the place was quite beautiful and the people were very nice. I really enjoyed living and working there all those years."
Beginning with a two-year internship where he traveled across the country, Hallock served in various leadership positions in TACOM Life Cycle Management Command prior to being named executive director of Army Contracting Command at Warren in 2007. He was appointed to his current position, based at the Pentagon, last summer.
While his responsibilities have changed over the course of his career, Hallock says that making sure America's war fighters get what they need to do their job remains everyone's top priority in procurement.
"There is no question that the U.S. soldier is the best-equipped war fighter in the world," Hallock says. "It's especially rewarding to be involved in something that can support our soldiers in battle and help bring them home alive."
A business administration major with a double concentration in financial management and personnel management, Hallock's academic journey began in UD's former Parallel Program, which has evolved into the Associate in Arts Program, taking classes at the Delaware Technical Community College campus in Georgetown.
"My accounting professor, Jay Gil, was a great mentor and kept in touch with me afterward," Hallock says. "I was able to establish a good foundation during my two years there and was able to build on that when I came to the main campus."
He later earned a master of science degree in program management from the Naval Postgraduate School in Monterey, Calif.
Article by Jerry Rhodes, AS04