ALUMNI BULLETIN BOARD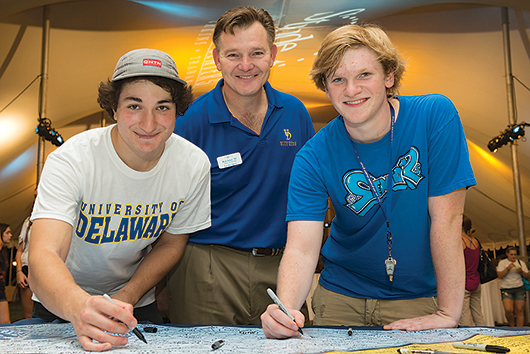 From our Alumni Association
Traditions have long been a part of the UD experience, from University-wide traditions like study abroad and competitive athletics to more personal traditions like kissing under the arches or rubbing Hugh Morris nose for good luck.
Several years ago the Alumni Association set out to create new traditions for students to be involved with the association while they were on campus, instead of recruiting them after they left.
In fall 2010, the first "Freshman Banner Signing" was held. This signed banner has followed the Class of 2014 to different events and will hang at their graduation and at future reunions. In the photo above, you can see me at last year's banner signing with Class of 2016 members Matt Mele (left) and my son, Connor Jones.
Next we created the "Sophomore T-shirt Swap and Blue Hen Games," followed by the "Junior Halfway There Party" and then the "Senior Cap Decorating Party," where students personalized their mortarboards for Commencement.
With one event each year for each of the four classes, by the time students graduate, they not only have heard of the UDAA but also know what it means to them. Since we believe that a Blue Hen's connection to UD is lifelong, we live by the motto "Blue Hens Forever." It's our hope that all alumni feel the same way.
Sincerely,
Kenneth C. Jones, BE80
President, UD Alumni Association
#BlueHensForever
Time to nominate deserving honorees
Nominations for the next Alumni Wall of Fame induction class will be accepted through Jan. 24, 2014. Those selected for inclusion will be honored at a ceremony during Alumni Weekend, June 6-8.
The Wall of Fame was established in 1984 by the UD Alumni Association and the University in recognition of the many notable achievements of alumni. It honors outstanding professional and public service achievements by UD graduates.
For more information and a nomination form, visit www.udconnection.com, click on "Awards and Recognition" and select "Alumni Awards."
Book offers a recipe for connections
Now you can unleash your inner chef with the University of Delaware Alumni Cookbook. The Student Alumni Ambassadors, a group of students selected by the Office of Alumni Relations to foster connections between alumni and students, have published a cookbook for Blue Hens, by Blue Hens.
The cookbook features 166 recipes submitted by alumni, students, faculty and staff. From breads to soups, appetizers to entrees, salads to desserts, the UD Alumni Cookbook includes recipes from alumni based around the globe, as well as a few by celebrity Blue Hens.
To order, visit www.udconnection.com/cookbook.
Pregame reunion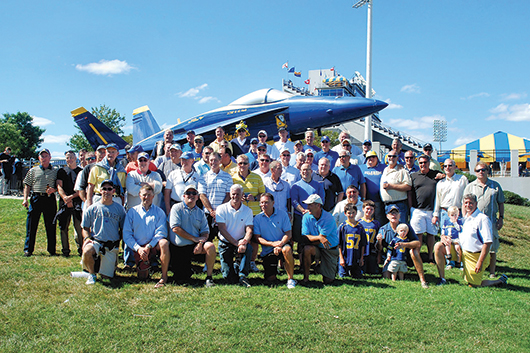 Bill Payne, EG60, and a large group of friends attended the UD-Navy football game Sept. 14—as they have every game against Navy for the past decade—and took time to pose for a group photo in front of the Blue Angel plane that sits in front of Navy-Marine Corps Memorial Stadium in Annapolis. Among this year's group were 47 fraternity brothers from ATO. Many remain involved with their alma mater, including Payne, who a few years ago was instrumental in helping to plan his class's 50th UD reunion.
Save the date: Alumni Weekend
June 6-8, 2014
Mark your calendars now for the next Alumni Weekend, which will include such popular features as Mug Night, the opportunity to stay overnight in a residence hall, campus tours, reunions and the annual "State of the University" address.
To see photos of last year's record-turnout event, visit www.udel.edu/alumniweekend.
Regional club events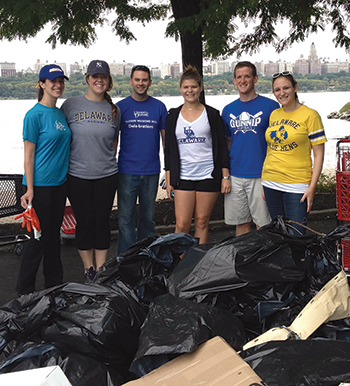 The regional alumni clubs host events across the country throughout the year. Some activities focus on professional networking, others on socializing, others on family fun. On Sept. 21, the annual UD Day of Service saw many clubs organizing projects to help their communities. Participants included the Northern New Jersey Alumni Club, which supported New Jersey Clean Communities and the Ocean Conservancy's International Coastal Cleanup by collecting trash along the Hudson River waterfront and walkway.
Here is a small sampling of coming events.
Dec.4——New York City - Reception with UD President Patrick Harker, International Center of Photography
Dec. 11—New York City - Alumni Club Open Board Meeting
Dec. 14—Newark, Del. - Breakfast with Santa, Clayton Hall, UD
Dec. 19—Hoboken, N.J. - Northern New Jersey Alumni Club Holiday Happy Hour
Jan. 13—Middletown, Del. - New Castle County Alumni Club Open Board Meeting
Jan. 18—Pittsburgh, Pa. - Blue Hen Ice Skating Event
Feb. 6—Lancaster, Pa. - Lancaster Alumni Club Interest Meeting and Happy Hour
March 11—Philadelphia, Pa. - Blue Hens at the Philadelphia Flyers Game
March (date TBA)—New York City - An Evening of Conversations and Connections annual event
For a full list of alumni events nationwide, visit www.UDconnection.com/clubs.