Semester in Spain inspires new graduate to return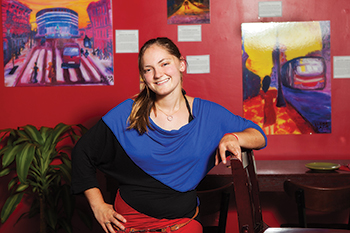 Ambre Alexander
ALUMNI | Since graduating in May, Elena Baca, AS13, has been finding ways to combine her varied interests, from art to travel to teaching—all sparked, she says, by a UD study-abroad program two years ago.
A Spanish education major, Baca spent fall semester 2011 studying in Granada, Spain, where, she says, "My passion to paint came alive."
Back at UD, she continued in her major, including working toward certification in teaching English as a foreign language, but continued to paint as well. Last summer, while volunteering as a teacher at the Latin American Community Center (LACC) in Wilmington, Del., she also sold some of her artwork and donated a portion of the proceeds to the nonprofit LACC.
"In addition to all this, my experience in Granada inspired me to apply to the Spanish government to teach English back in Spain," where she began work in late August, she says. She is spending the current school year teaching children from pre-kindergarten through middle school and painting in her free time.