Sports Briefs
Renovations a win for athletes at all levels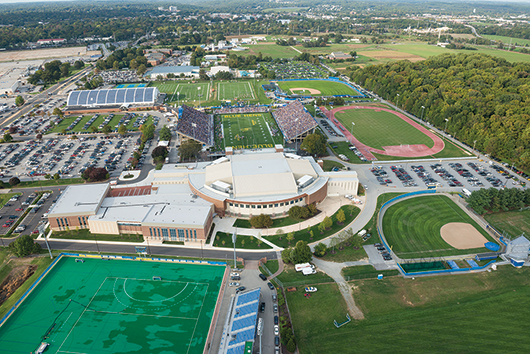 Four facility improvement projects are under way on campus, all designed to enhance the experience of thousands of students for years to come.
The projects were announced in April by Eric Ziady, director of athletics and recreation services. They are a major renovation of the Bob Hannah Baseball Stadium, including the installation of an artificial turf surface and a new scoreboard, dugouts, bullpens and batting cages; the installation of a new all-weather outdoor track in the Delaware Mini-Stadium; the transformation of the Delaware Field House into a first-class indoor practice facility with an artificial turf surface; and the total resurfacing of two natural grass soccer practice fields that also are used for summer youth camps.
In addition to the four new projects, construction continued through the summer at Carpenter Sports Building, where a new 45,000-square-foot expansion to UD's primary recreation facility for students and staff opens this fall. The three-story expansion includes new workout areas, group exercise rooms, offices, a student lounge and an outdoor courtyard.
"These projects are designed not only to improve upon the student-athlete experience on an intercollegiate level, but also to provide significantly expanded programming for all club, intramural and recreational participants," Ziady said in announcing the plans. "Our goal is to maximize utilization of all our athletic facilities in a way that we can better serve the University of Delaware student population while also striving to provide venues that will be attractive destinations for community, state and national athletic and entertainment events."
The estimated total cost of the new projects is $3.8 million, funded by the Athletics capital allocation in addition to gifts that have been raised in the past and that will be raised in the future.
"The modifications and improvements to these facilities come at a critical time," Jake Olkkola, associate athletics director for recreation services, says. "With usage and demand at an all-time high, these multipurpose spaces will be a huge asset to recreation services and could benefit thousands of intramural, club and recreation athletes."
Bob Hannah Baseball Stadium will see its first major improvements since 2000, and the new enhancements will be significant, transforming the facility into one of the top venues in the Colonial Athletic Association. The improvements will allow the UD club baseball team increased usage of the facility with the hopes of attracting more outside groups, including local high school and youth teams.
Student-athletes thank their benefactors
Members of the University community, including the student-athletes who benefit most directly, gathered in April to show their appreciation to those who support undergraduate athletics through the creation and ongoing support of named scholarships.
"This is a tremendous opportunity, not only for us to welcome back and thank those who have been so generous to us, but also to introduce and expose them to the true beneficiaries of their investment—our student-athletes," said Eric Ziady, director of athletics and recreation services.
A featured speaker was Chandler Bryant, a middle hitter on the volleyball team and the inaugural recipient of the Darelle Lake Riabov and John Riabov Volleyball Scholarship, the University's first endowed scholarship for that sport. Male athletes were represented by Nick Boyle, a tight end on the football team and recipient of the Tubby Raymond Football Scholarship.
"Because of the generosity of donors, young athletes like me have the opportunity to grow and succeed in the sport they love while getting a quality education at the school they love," Bryant said.
Also speaking at the reception was Stephen Stockwell, who with his wife, Patricia, established the Stephen and Patricia Stockwell Swimming Scholarship. Both Stockwells graduated from UD in 1968 and have been loyal Blue Hen fans and supporters ever since. One of many donors who are former student-athletes themselves, Stephen Stockwell credits the guidance he received from his UD swim coach, Harry Rawstrom, with having a tremendous impact on his life.
He said Rawstrom instilled in him the desire to give back, and he urged current student-athletes to do the same.
"I encourage you to join me in supporting those who have supported you and start giving now," Stockwell said. "Start now, start small, but start. Start 'Feeding the Hen.'"
Fans young and old ready for football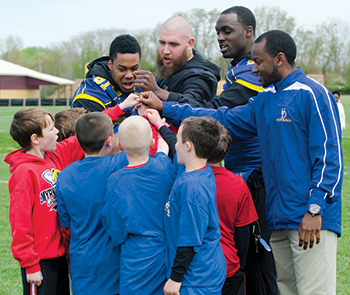 Photo by Jeff Work
The new era of UD football under the leadership of head coach Dave Brock and his staff began even before the Aug. 29 season opener at Delaware Stadium, with spring practice sessions that included special events for fans.
As the season kicks off, Brock welcomes back 28 players with starting experience from a team that posted a 5-6 record last year.
A new event took place in April when the Blue Hens held a scrimmage at Milford High School, enabling fans from southern Delaware to come out near home for a day of free fun, football and giveaways. The afternoon event included concessions and alcohol-free tailgating, as well as the opportunity for boys and girls ages 4-12 to participate in "Football Skills Fun" with Blue Hen players before the scrimmage.
Radio Disney provided interactive entertainment, and UD cheerleaders and the mascot YoUDee were on hand. Fans could make their entrance through the team's inflatable helmet. A meet and greet featured student-athlete autographs and photos.
A few weeks later, the popular Fandemonium event was held in Newark, leading up to the annual Blue-White Game, which closes a month of spring practice. Fandemonium featured kids' games, live music, food, photo opportunities and autograph-signings, among other activities.
At the game itself, wide receiver Rob Jones and running back Julian Laing stole the show as they catapulted the Blue team to a 38-6 victory over the White team.