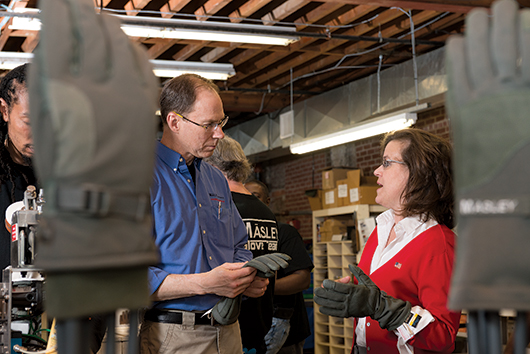 Photo by Evan Krape
Small businesses get a helping hand
ON THE GREEN | Legend has it that that Ralph Waldo Emerson once said, "If you build a better mousetrap, the world will beat a path to your door."
Frank Masley's better mousetrap was actually a better military glove — one that protects soldiers from fire, water, fuel and germs while also providing warmth and preserving dexterity.
The former Olympic luger conceived the idea for the gloves while working at W.L. Gore and Associates as a textile engineer, and in July 2000 he launched his own business to develop, manufacture and market his idea.
Working in the basement of his home with his wife, Donna, as his partner, Masley came up with the design, which uses Gore-Tex fabric, and even taught himself to sew. But he quickly learned that even if you build a better military glove, the Army will not necessarily beat a path to your door.
"I was a little bit embarrassed," Masley admits. "I had a degree in mechanical engineering, an MBA and 11 years of experience at Gore, so I felt like I should know what I was doing. But I didn't. Corporate experience doesn't prepare you for being a small business owner—getting the gloves out there was a hard sell."
Fortunately, Masley had learned about the Delaware Small Business and Technology Development Center (SBTDC) and the Procurement Technical Assistance Center (PTAC) in a class he took while studying for his MBA at Goldey Beacom College in the 1990s.
In 2002, Masley decided to explore these resources, both of which are part of the University's Office of Economic Innovation and Partnerships (OEIP). Since then, he says, he's taken just about every class offered by the two centers.
"SBTDC assisted me with my business plan, and PTAC helped us get a GSA (federal General Services Administration) Schedule Contract, which basically makes it easier for the government to buy from us," he adds.
The SBTDC also helped with financial projections, marketing advice and analysis of software options and is currently working with the Masleys to research export opportunities.
In addition, PTAC staffer Dana Reece assisted the couple with getting Masley Enterprises certified as a female-owned business and matched them with other small U.S.-based companies that work on intermediate sewing and assembly steps in the glove manufacturing process.
On the advice of Juanita Beauford, PTAC of Delaware director, Masley Enterprises recently became the first business in Wilmington, Del., to take advantage of the Small Business Administration's HUB Zone Program.
HUB, an acronym for Historically Underutilized Business, provides incentives for companies to move into low-income, high-unemployment areas. In turn, businesses using the program are required to draw at least 35 percent of their employees from within the zone.
The property the Masleys purchased and occupied in February is a former mill on the banks of the Brandywine River in Wilmington's Eastside neighborhood. Their employees, many of whom have never had regular jobs, now report to work in an environment that not only is safe and comfortable but also offers a water view.
"It's a team effort here," Donna says. "We emphasize work-life balance, and our employees know that if they have an issue—with child care or transportation, for example—they can bring it to us, and we'll do our best to help them resolve it. We really respect our employees, and they know that."
The glove plant is run according to "lean manufacturing," an approach aimed at maximizing value and minimizing waste. The Masleys even shut down production for an entire day at one point so their team could take a class in this methodology at Delaware Technical Community College, enabling the staff to contribute to decision making at the plant.
The Masleys also offer their employees a variety of worksite benefits, including incentives for reduced manufacturing failures, an exercise program to mitigate stress and social events like lunches and pretzel parties.
"I would encourage more companies to take advantage of the HUB zone designation," Frank says. "The lines are redrawn every 10 years, and we could lose our status if the program here is successful. But nothing would make me happier than to see that happen. We want more people in Wilmington to be gainfully employed."
He also urges other small business owners to seek out the support of the SBTDC. "They genuinely want you to succeed," he says. "They point you in the right direction, and then it's on you to take it from there.
John Osoinach, director of the New Castle County SBTDC, agrees. "There's a lot we can do to support the client," he says. "But they're still the ones who make it work."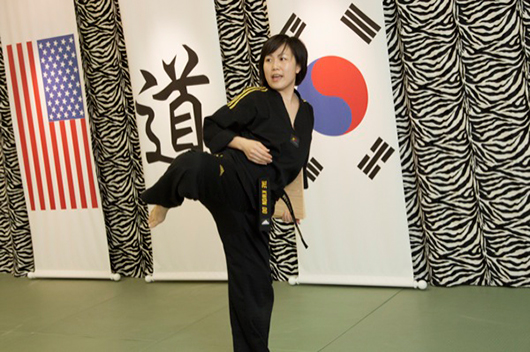 Photo by Ambre Alexander
Martial arts studio kicks it up a notch
Luck was on their side when Mi Jung Choi and her husband, Ha Young Seo, chose the Pike Creek area of Delaware for their martial arts studio, Tiger Kicks, more than five years ago.
"The demographics are perfect for a taekwondo school," says Wendy Wen, a business analyst in the Small Business and Technology Development Center at UD. "There are lots of young families and a number of high-quality elementary schools in the area."
Launched in July 2008 with just a handful of students, Tiger Kicks now has some 300 members and has expanded twice to accommodate new members and programs. But each time they moved, they followed Wen's advice and stayed in the Pike Creek area, enabling them to grow without losing their existing customer base.
Wen not only advised Tiger Kicks about location but also assisted them with development of a business plan for expansion. In addition, she referred Choi and Seo to local bank WSFS to secure additional working capital through two programs—the Jumpstart Our Business Startups (JOBS) Act of 2012 and the Delaware Economic Development Office's Access Program, which gives banks a tool to make business loans that are somewhat riskier than conventional bank loans.
"Wendy is very personable, and she really cares about her clients," Choi says through interpreter Michelle Lee, HS13. "She was always willing to spend extra time with us, and she also introduced us to another business adviser, Bob Rausch, who helped us with setting up QuickBooks for better financial management."
Wen was such a good teacher that her student has now become a mentor to others. "We have many friends in the martial arts business," Choi says. "It can be difficult to obtain loans and get started. We are tremendously thankful that we met Wendy because now we're able to give advice and help others."
Choi and Seo both hold sixth-degree black belts in taekwondo, but for them the business is about more than simply teaching martial arts classes. Just as the Korean word "taekwondo" refers to the unity of body, mind and life, Tiger Kicks strives to unify individuals, families and community.
In addition to classes, the studio offers afterschool programs and hosts holiday parties. All the Tiger Kicks programs reinforce rules implemented in the home, and the various belt colors correspond to values such as discipline, respect, patience, honesty, responsibility and teamwork.
"One of our fastest-growing programs is our family class," says Lee, who graduated in May with a degree in exercise science. "There aren't a lot of exercises families can do together. Here, families sweat together and jump together and are physically active together, and they develop a special bond through that."
Lee has been with Tiger Kicks for three years, first as a student and now as a staff member.
"I've learned so much from Wendy and the people here," she says. "I think it's important for young people just getting out of college to know about resources like the support and classes offered by the SBTDC as they prepare to start businesses of their own."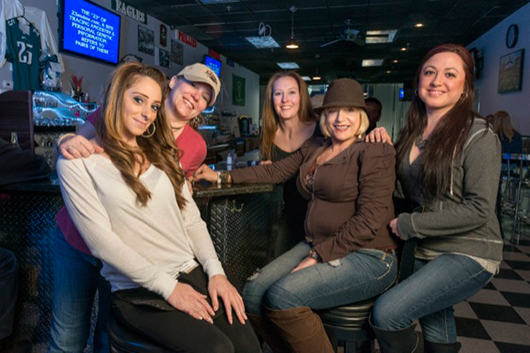 Photo by Evan Krape
Cheers to pub's successful expansion
McTullio's Pub sits just a parking lot away from the Pennsylvania state line, but its location in Delaware gave owner Barbara Tullio access to an invaluable resource in the Delaware Small Business and Technology Development Center.
Tullio had spent 35 years as a bartender when an opportunity matched up with a dream in 2010.
She had been working at Roy's Pourhouse, a small tavern in Tri-State Mall at the northeastern tip of Delaware, for about five years when the owner admitted that he was having financial difficulties. He offered her a partnership in the business and three months later asked her to buy him out.
"I had always thought it would be wonderful to have my own place," Tullio says, "so I jumped at the chance." But Tullio was so successful at attracting—and keeping—customers that the business quickly outgrew the small space.
A larger store just a few doors north in the shopping center was available for lease, but Tullio was operating from month to month financially and lacked the capital to renovate the space and launch a larger business.
Enter Wendy Wen, SBTDC business analyst.
"Barbara was referred to us by Ken Anderson in the Delaware Economic Development Office," Wen says. "Ken described Barbara's existing business as 'thriving,' but he was also aware of the many challenges she faced in getting a loan, including a difficult private sector loan market, a short window of time to develop a business plan and only two years of financials."
Wen put Tullio on the fast track to expansion by finding her a sample business plan to use as a model, showing her how to do a cash-flow projection and linking her to First State Community Loan Fund (FSCLF), a nonprofit that provides loan capital to small businesses, community organizations and developers of affordable housing.
After several months of hard work dealing with plans and permits, contractors and computer software, Tullio opened the doors at her new location on Sept. 28, 2012. Within days of celebrating her grand opening, however, she was in a car accident and then was diagnosed with lung cancer.
But even as she recovered from the accident and underwent chemotherapy, the bartender-turned-businesswoman moved forward with her plans to take McTullio's from a tiny tavern with steam-table food to a pub with a real menu. The venue now offers live music, dart and pool leagues, chair massage, karaoke and dance parties. Tullio has also hosted fundraisers for groups serving wounded warriors, children and the homeless.
She is most proud of her contribution to the local labor market. "I've created eight jobs," she says in amazement. "Eight people have jobs because of this pub."
All the pub's current employees are female, but Tullio is an equal-opportunity host. Purse hangers on the bar make women feel welcome, while diamond-plate wainscoting on the walls reminds male patrons of their pickup truck toolboxes.
"We have a wide range of clientele, and my only rule is that everyone has to treat everyone else with respect," Tullio says.
"Everyone here is family. There's a lot of love in this place."
That love extends to Wen and everyone else who helped Tullio reach her current level of success.
"I love Wendy," she says. "She not only shared her knowledge with me but also gave me the gift of her patience. She spent time with me, shedding light on what I needed to do and walking me through the process. Most of all, she believed in me when I wasn't even sure I believed in myself."
Wen is quick to throw the credit back at Tullio. "Barbara is the hardest-working person I know," she says. "She is so committed to this business, and I know that she will do whatever it takes to succeed."
Tullio is also very grateful to Bob Kauffman and Phyllis McCollum, her loan officers at FSCLF. Like the patrons of her pub, the two have become Tullio's friends.
"I couldn't have done it without them," she says. "They found creative ways for me to meet the requirements so that my loan would be approved. I'm determined not to let them down."
About SBTDC
The Small Business and Technology Development Center, a unit of the Office of Economic Innovation and Partnerships (OEIP), exists to strengthen Delaware's economic base by providing quality services such as management assistance, educational programs and resources to Delaware's business community and potential entrepreneurs. The SBTDC is funded in part through a cooperative agreement with the U.S. Small Business Administration and the state of Delaware.
Under the direction of former DuPont vice president for research and development David Weir, OEIP works with the state, Delaware Technology Park and numerous researchers and companies in creating a culture where innovation and entrepreneurship can thrive in Delaware.
Article by Diane Kukich, AS73, 84M