ON THE GREEN NEWS BRIEFS
Top faculty award for psychologist who studies infants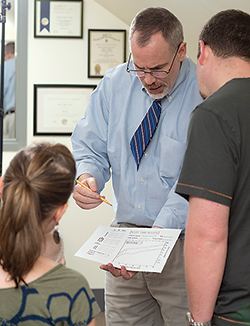 Psychology Prof. Paul Quinn, an internationally known scholar in the field of perceptual and cognitive development of infants, has received the 2013 Francis Alison Faculty Award, the University's highest competitive faculty honor.
The award was established by the Board of Trustees in 1978 to recognize the faculty members who best demonstrate the combination of scholarship and teaching exemplified by the Rev. Francis Alison, founder of the institution that is now UD.
Quinn is widely regarded for his research on how infants perceive the world and appear to classify objects and even faces into categories long before they are able to speak. He has been equally praised for his successful teaching in both introductory and advanced psychology courses and for the research opportunities and mentoring he provides in his lab to undergraduates as well as graduate students.
"We are fortunate to have Paul Quinn as a member of our faculty," says George Watson, dean of the College of Arts and Sciences. "He is one of our most influential researchers, opening important frontiers in cognitive psychology. His work and reputation have brought attention and recognition to the University of Delaware."
Quinn identifies the "big question" in his field of research as how a baby develops into an intelligent adult. His research, in which he studies the length of time infants spend looking at objects to seek to determine how they are perceiving their environment, contrasts with the traditional view that the concepts humans use to think about the world are products of language and instruction.
"I think our work has shown that at least the initial beginnings of our ability to parse the world into meaningful groupings begins in pre-verbal infants," Quinn says. "Young infants do not experience the world as an undifferentiated bunch of grapes. They have the ability to sort, for example, the cats from the dogs just based on appearance information."
In a letter supporting Quinn's nomination for the Alison Award, an outside researcher wrote that he is "easily recognized as one of the strongest and world-renowned leaders in the field of developmental human cognition, with seminal contributions to the science of how young infants represent information about people, places and things."
Other letters of support came from former UD students, many of them now doctoral students or faculty members in various academic departments of psychology, praising his innovative teaching methods and dedication.
To Quinn, teaching students at all levels and mentoring them in his lab are highly enjoyable aspects of his work. One of the highlights of teaching comes when he can help a student transform his or her thinking and realize: "I can do this. I can do science. I can make a contribution," he says.
76ers franchise at home at the Bob

The Philadelphia 76ers announced in April that its new National Basketball Association D-League franchise, known as the Delaware 87ers or the Sevens, will play its home games at UD's Bob Carpenter Center beginning this fall.
The team will compete in the 17-team NBA Development League, the association's only minor league, whose season runs from November through April.
"Having the Sevens play in the Bob Carpenter Center gives us a great opportunity to showcase the UD campus, and it gives our neighbors a fun, exciting activity they can share with their families," University President Patrick Harker says. "I know the players want to be an engaged presence in the local community, and I look forward to seeing them around town."
Delaware Gov. Jack Markell pledged "a hometown spirit of support as the Sevens build a new basketball legacy for Delaware, for the region and for the sport."
The team is expected to strengthen the Sixers' player development and team initiatives. Its name recognizes Delaware's place in history, as the first state to ratify the U.S. Constitution on Dec. 7, 1787.
Engineering selects academic leader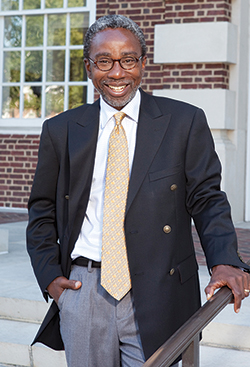 Babatunde A. Ogunnaike, the William L. Friend Chaired Professor of Chemical and Biomolecular Engineering, was named dean of engineering effective July 1, after a nationwide search.
He is responsible for the academic leadership of more than 130 faculty members in six departments with a total enrollment of more than 3,000 undergraduate and graduate students. Additionally, the College of Engineering is home to a wide range of disciplines that support world-class programs and 14 research centers.
"This is a very important time in history for those of us charged with educating the next generation of engineers," Ogunnaike says. "With our dedicated and talented faculty and staff, we are well positioned to take our world-class engineering college to the next level. Together we can create a collaborative culture that will enable us to reach our goals side by side."
Ogunnaike says his vision for the college includes a renewed commitment to excellence through strategic focus on three key engineering enterprises: research, education and entrepreneurship. He plans to increase the college's global reach, financial stability, diversity and engagement with alumni and the community.
Ogunnaike, who joined the UD faculty in 2002, served the college as interim dean from 2011-13. During that time, he worked to develop partnerships with other academic institutions and to strengthen community partnerships with such organizations as Bloom Energy, U.S. Army Research Laboratory, DuPont and JPMorgan Chase.
High rankings for UD schools, programs
The newest edition of U.S. News and World Report's Best Graduate Schools, released in March, ranks several schools and programs at UD in the upper echelon. Newly rated are the School of Education (ranked 37), College of Engineering (55) and Alfred Lerner College of Business and Economics (69 in the category of top part-time programs).
The U.S. News website also includes rankings of University graduate schools and programs from previous years: biological sciences, 130; chemistry, 60; computer and information sciences, 72; criminology, 16; English, 63; geological sciences, 69; history, 64; mathematics, 76; nursing, 127; physical therapy, 2; physics and astronomy, 77; psychology, 67/doctoral program in psychology, 47; public policy administration, 37; and sociology, 64.
UD also recently was listed among the world's 200 top institutions in four of the 30 subjects featured in this year's
QS World University Rankings by Subject—chemical engineering, agriculture and forestry, environmental sciences and linguistics.
Collection reveals civil rights history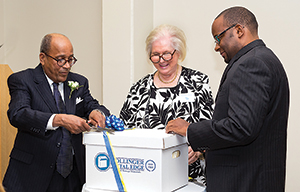 Kevin Quinlan
A new research collection, the Littleton and Jane Mitchell papers, is available at the UD Library in Special Collections.
The Mitchell papers consist of 47 boxes in a collection that will help University students and faculty, members of the public and scholars from around the world understand the history of civil rights in Delaware and the contributions of leading pioneers "Lit" and Jane Mitchell to many aspects of community, career and political service in the state.
To raise awareness of the papers as a research resource, an exhibition, "Fighting for Equality: Remembering Littleton P. Mitchell," will be on display through Sept. 30 in the first-floor Information Room of Morris Library.
The exhibit highlights the activities of Mr. Mitchell as a member of the Tuskegee Airmen, his three-decades-long leadership of the Delaware NAACP and his career as a teacher and counselor. Also displayed are items representing the career of Mrs. Mitchell, a 1963 UD graduate, one of Delaware's first African-American nurses and the former director of nursing at Delaware State Hospital.
Coding competition benefits community
A team of students who designed a mobile app, which enables the United Way to provide Delawareans with resources and information about its 2,000 services in real time, won the top award at JPMorgan Chase's Delaware Code for Good Challenge.
UD students swept winning honors at the codefest, where groups from 15 area universities worked for 14 straight hours to create a wide range of innovative applications and technical tools to benefit the community. The first-place team consisted of Michael Balles and McKeighry Tierney, mechanical engineering and electrical engineering students, respectively, at UD, as well as a student from the University of Pennsylvania and one from Rochester Institute of Technology.
UD, whose students also made up the second-place team, had the most participants in the event, with 17 of the competition's 42 top technology students.
"The Code for Good Challenge has allowed JPMorgan Chase to bring together the next generation of technology talent to benefit the Delaware community," says Guy Chiarello, the company's former chief information officer. "We were thrilled with the turnout and impressed by the innovative solutions developed by the students."
Grateful students celebrate donors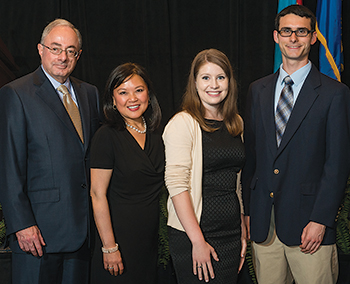 Kathy F. Atkinson
Scholarship recipients from across the University were able to meet and thank the donors whose philanthropy helped make their educations possible at this year's Celebration of Scholarship event.
Held in May, the annual reception acknowledges and celebrates the generosity of undergraduate scholarship support at UD and the impact it has, not only on students but also on the institution as a whole.
"Your generosity starts these students on a path to patronage—from beneficiary to benefactor," President Patrick Harker said at the event. The celebration provides the opportunity for donors to share the stories behind the establishment of their scholarship and for students to express what their scholarship funding has allowed them to accomplish.
Jenna Byers, a junior food and agribusiness marketing and management major and a recipient of the Charles and Patricia Genuardi Scholarship, spoke at the event. "Knowing that someone believes in you enough to invest so substantially in your education and in your future is a huge honor," said Byers, who is the first member of her family to attend college.
Harker also presented the 2013 President's Award for Philanthropic Commitment to donors Don Puglisi and Marichu Valencia. In 2011, the couple gave $1 million to create the Donald J. Puglisi Music Enrichment Fund and at this year's celebration announced plans to invest an additional $1 million in the Department of Music as a challenge to encourage gifts from others.
All work, no play hinders education

Myae Han, associate professor of human development and family studies, is a passionate supporter of play.
"Work and play are not opposite," she says. "They mutually support each other. Play reduces work stress and increases positive climate, team building and cooperation."
In March, Han was able to bring a joint national conference to Delaware, "Play as a Pathway," which drew researchers from 12 countries and 24 states, with about 150 people in attendance. The key message was that play crosses multiple disciplines, including education and health sciences.
"There's more focus on standards and testing in education now," Han says. "Teachers feel a lot of pressure to design their curriculum around structured learning. They are afraid that playtime, be it recess or art projects, will hinder learning. But there is a lot of research that validates the importance of play.
Play provides psychological, social and medical benefits that all support academic improvement."
Conference presenters discussed the benefits of incorporating play throughout a person's life span and the detrimental effects of recess deprivation and overuse of electronic devices.
Leadership award for McNair Scholar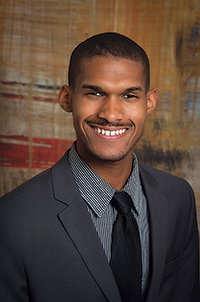 N'Kosi Oates, now beginning his senior year at UD as a communication and political science double major and a member of the McNair Scholars Program, spent the summer conducting research at Columbia University with the support of a prestigious Leadership Alliance award.
Students selected for the Summer Research Early Identification Program receive research training from a faculty or research mentor at a participating Leadership Alliance institution. While researching possible graduate programs, Oates became interested in the work done by Dorian T. Warren at Columbia and contacted the professor, who quickly agreed to be his summer mentor.
Oates is the second UD McNair Scholar selected by the Leadership Alliance to receive a summer research award; Shantel Campbell previously completed her summer research at Stanford.
"I am very grateful for this opportunity," Oates said when his selection was announced. "This experience will provide me with insight into which program I want to pursue in graduate school. It's an honor that one of the professors I have admired will take me under his wing and will provide me with his guidance and mentorship."
Students model global skills at conference
The delegates of HenMUNI, the inaugural Model United Nations Conference at UD, had a busy weekend in early March. By Sunday afternoon, major world capitals had been bombed, leaders kidnapped, diplomats executed, nuclear warfare waged, vaccines globalized and hostage situations resolved.
More than 350 students from 17 high schools acted as delegates from around the world in the mock U.N. session, debating and reacting to real and hypothetical international issues.
"It's a great learning experience for high school students," says Max Kramer, then an Honors Program senior majoring in political science and economics and the secretary general of HenMUNI. "The conference gives them a chance to refin their debating and negotiation skills and to practice their leadership skills."
HenMUNI resulted from almost two years of planning and began as a text message. Kramer was looking for ways to make a difference and implored his friends to help with the succinct plea, "Big things happening."
He and six fellow students organized the event and became the secretariat of HenMUNI. They recruited 125 other UD students to facilitate the conference.