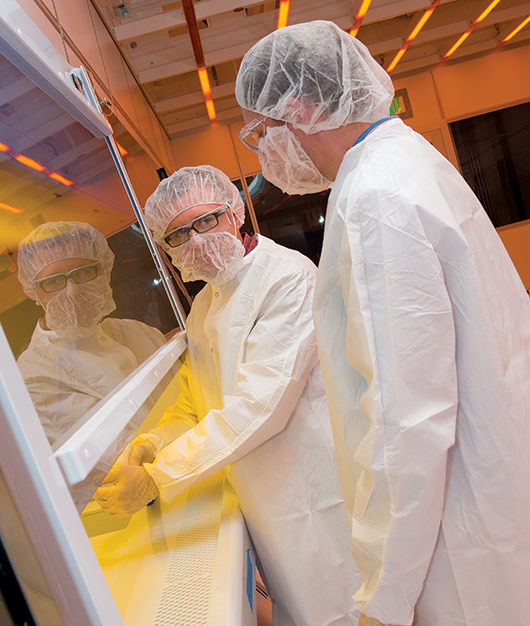 Kathy F. Atkinson
The future of science
First-class building welcomes its first students to class
Think about all that has happened in the past two decades—amazing advances in science and technology that span the globe and affect daily life, public policy, world affairs, business operations and American culture.
And, at the University of Delaware, a student body that has increased steadily in size and quality. An ever-growing number of students from around the world who want to enroll in UD's graduate programs. Students who are interested in innovation and expect an education that prepares them to meet the needs of the 21st century workforce.
As the 2013-14 academic year opened, so too did the first new laboratory building on campus in 20 years. It's a building created specifically to address the needs of students and researchers today and into the future.
The Interdisciplinary Science and Engineering Laboratory (ISE Lab) at the corner of Academy Street and Lovett Avenue has already begun serving as a hub of teaching and research at the University. The 194,000-square-foot facility brings together students and faculty from various disciplines to teach, learn and conduct research in a collaborative environment. Research provides content for the curriculum, and students learn through the exploration of real-world problems.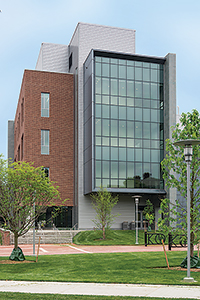 Evan Krape
With two wings, one focused on teaching and the other on research, ISE Lab engages students and stimulates excitement about science and engineering. But don't let the two wings fool you; teaching and research happen in both areas, with students encouraged to see the connections.
Inside you don't find large lecture halls; no classroom holds more than 48 students. ISE Lab's four problem-based-learning instructional laboratories feature lab spaces adjoining classrooms so students can discuss a problem and then immediately test a solution. Faculty members have worked to design curricula that optimally utilize these rooms.
The building's eight general-instruction classrooms all include the latest in educational technology and mobile furniture, allowing for flexibility of seating arrangements to suit group or individual work.
The Bob and Jane Gore Research Laboratories will house core facilities for teams of researchers, including an imaging and microscopy suite, a 10,000-square-foot nanofabrication facility and a materials characterization lab. The wing will also house the UD Energy Institute, the Delaware Environmental Institute and the Catalysis Center for Energy Innovation. These research groups are focused on solving some of the most pressing problems of the 21st century.
Here are a few other things to know about ISE Lab:
• You can smell the coffee and bread as you walk inside. An Einstein Bros. Bagels café is just inside the main entrance, in a lobby area featuring seating for relaxation and study. The building's design incorporates many such common areas to encourage students and faculty to share ideas informally.
• Don't be surprised to see students in the hallways and classrooms who are majoring in humanities or art. Every UD student is invited to spend time in ISE Lab, and classes from any academic department can be held there.
• Research doesn't have to be conducted behind the scenes. The University aims to expose undergraduates to the research taking place in ISE Lab and create opportunities for them to get involved. Large-screen monitors will broadcast actual projects in progress from ISE Lab's specialized research facilities.
• ISE Lab may not be green in color, but it's environmentally green. It was constructed to achieve, at minimum, the standards of the U.S. Green Building Council's LEED Silver designation. This represents a significant investment in environmentally friendly products, equipment and design standards. For example, each air handler is equipped with a heat recovery system, and there are three green roofs.