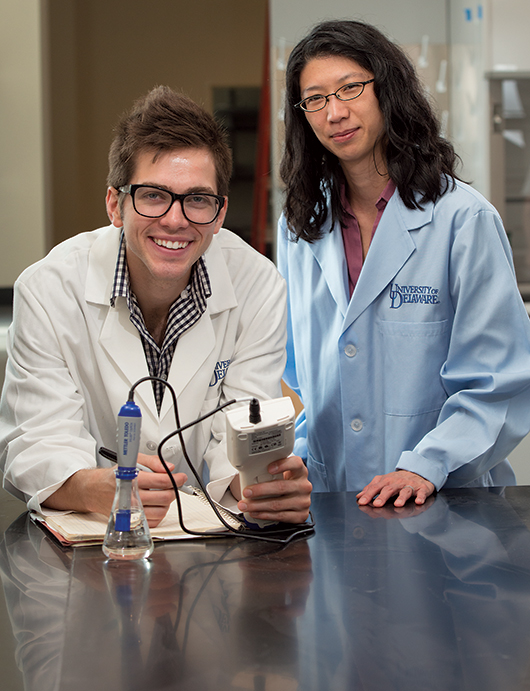 Kathy F. Atkinson
Fabulous facilities enhance 21st century research
From renewable energy to the faster, more energy-efficient next generation of electronics known as spintronics, today's issues are so complex that experts in multiple fields are needed to address them.
UD's ISE Lab, with its spaces organized to foster collaboration among scientists and to involve students in research, marks a new direction for academic facilities facing these new challenges and opportunities. Designed to be a hub for the science of the future, it's a building that will provide the most advanced scientific equipment and laboratory spaces available—a place where innovation and multidisciplinary partnerships are cultivated.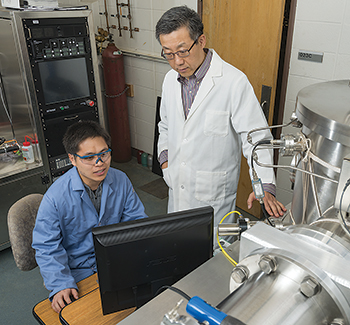 Evan Krape
The Gore Research Laboratories will make many scientists resemble kids in a candy store. The wing houses four laboratory suites with some of the most sought-after microscopes and machinery. Most can now be accessed by a larger segment of the campus community, as well as by industry and government partners. Staff experts will be on hand to assist users.
The Gore Laboratories offer specialized facilities for nanoscale manufacturing and the development of advanced materials, and the offices are in an open space allowing faculty members from different disciplines to more easily collaborate.
In addition, this wing of the building houses core facilities for teams of researchers. Following are some of those facilities.
The W.M. Keck Microscopy Facility assists in the structural and chemical characterization of materials, with a transmission electron microscope that allows researchers to create high-resolution images. The equipment here is particularly sensitive to vibration, so this lab was constructed atop its own foundation, "a box within a box," separated from the rest of ISE Lab to minimize interference.
A materials characterization lab is used by scientists seeking the true nature of materials. Researchers in this lab will be able to examine the materials' internal structures and properties using such methods as X-ray diffraction, Ramen spectroscopy, infrared spectroscopy and mass spectroscopy.
A 10,000-square-foot nanofabrication facility, including a state-of-the-art clean room where the special design and high air-flow rate allow the kind of nanoscale work in which even a speck of dust has a huge impact. (Nano materials are extremely small; the diameter of a nano-fiber, for example, is about one-thousandth that of a human hair.) Nanofabrication labs are sometimes called the machine shops of the 21st century.
One researcher who will be taking full advantage of the new building's offerings is Michael Klein, director of the UD Energy Institute, one of three research groups making ISE Lab their home base. But, Klein points out, it's not just the scientists associated with those groups who will benefit from ISE Lab.
"There is no single science base to energy," he says, as the institute strives to be a bridge that connects some 250 people across the UD campus who are engaged in energy research. "To develop energy solutions, we need coherent, functional teams."
Energy is also the focus of the University's Catalysis Center for Energy Innovation, where researchers are focused on finding ways to transform plant material into biofuels, useful chemicals and electricity. Dion Vlachos, who leads the center, has high hopes for the new facilities.
"I see the ISE Lab as an incubator that will enhance our research, nurture new synergies on campus and foster opportunities to increase collaborations with industry, both here and across the nation," he says.