Critical thinking for real-world problems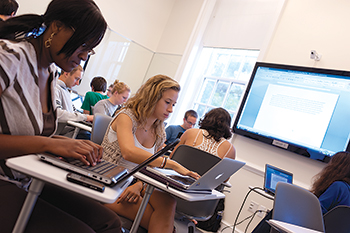 Kathy F. Atkinson
Deborah Allen taps her fingers on a massive biology textbook sitting on a table in her office. She refers to such tomes as student guidebooks.
"They should make excursions into this, pull what they need and go from there," says the associate professor of biological sciences. The students in introductory biology courses at UD have already learned many of the fundamentals of the subject in high school, and now, Allen says, they need not repeat the basics in college. Instead, what they should be learning is how to think critically.
In her classes, Allen builds critical thinking skills through a method known as problem-based learning (PBL). Traditional lectures by a professor standing behind a lectern are replaced by the presentation of real-world problems to be solved, often by working in groups. PBL promotes inquiry, leading students to formulate their own scientific questions.
"That's really at the heart of science—knowing what's going to be a productive question," Allen says.
This academic year, Allen is teaching her introductory biology class in one of ISE Lab's four PBL instructional laboratories. In each suite, two teaching labs adjoin a classroom, separated only by glass walls, so that students can discuss a problem and then immediately move into the lab to test a solution.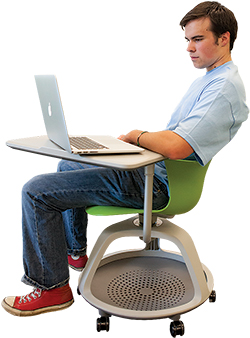 Ambre Alexander
The design of ISE Lab, built specifically for such exploratory learning, physically and symbolically shifts the current paradigm. In traditional classroom settings, a faculty member or teaching assistant describes the week's experiment, which students then conduct at a different time and often in a different building.
In the new building, classrooms are equipped with the latest instructional technology, including some with 3-D projectors. Using them, students can—virtually—slice into a brain, look inside a molecule, examine geological formations in a stream or travel through an artery, right from their seats.
Problem-based learning at UD
Since 1997, the University and its Institute for Transforming Undergraduate Education have earned international recognition for expertise in PBL. And now, President Patrick Harker noted in his annual State of the University address in June, the new ISE Lab will be "a temple" to that process, "where professors teach critical thinking alongside scientific content."
Faculty members have been designing curricula to optimally utilize these rooms, and the first classes got under way as the semester began in late August. The building is a key component in UD's goal of engaging students in science and fostering their curiosity.
"The problem-based approach asks students not just to cover material, but to uncover it for themselves," says George Watson, dean of the College of Arts and Sciences and a pioneering advocate for PBL.
"It elevates the level of discovery in the classroom through engagement with interdisciplinary real-world problems. Students learn how to learn, a key to future success in their careers, and better to see the relevance and context of fundamental scientific concepts."
As for students, such as those who have taken PBL-based classes taught by chemistry Prof. Hal White, they definitely notice the difference in teaching methods.
"He sets the stage for us to gain a deep understanding of the material," a student wrote in an anonymous evaluation of White and his "Introduction to Biochemistry" class. "By putting the onus of learning the material on ourselves, we learn more. By putting us in groups, there is more motivation to learn."
Another summed up the enthusiasm many students felt: "The only course where the instructor has to tell students to leave when class is over."
Lab designed to engage and inspire student learning
Students, teachers and researchers from a wide range of disciplines are making use of ISE Lab's eagerly awaited classrooms and laboratories. Here, College of Engineering deputy dean Kristi Kiick and College of Arts and Sciences senior associate dean Doug Doren talk about the new building and its DuPont Science Learning Laboratories.
Q: How essential is it for UD to have additional classroom and laboratory space, particularly for science and engineering classes?
Kiick:The University has faced a shortage of student laboratory space for some time. The additional classrooms and labs in this new building provide much-needed, state-of-the-art space to enrich the education of undergraduate and graduate students alike.
Q: How does the design of the new building promote problem-based learning (PBL, see article above) and other new and better ways of teaching?
Doren: Classes will be much smaller—48 seats, compared to lectures of 200 or more—but it's not just about class size. With PBL, students are actively engaged in exploring the material. They get experience in working as part of a team and communicating within a group and to an audience. An important sign of success is that students who have taken PBL courses are more likely to continue taking additional science courses.
Kiick: The PBL suites will allow students to work collectively in the learning of science and engineering principles to solve real, complex problems. The proximity of the educational and laboratory space will allow the students to be exposed to high-quality research facilities and activities on a regular basis. Such spaces and capabilities can serve as a focal point for conversation and problem solving, resulting in new interdisciplinary ideas and approaches.
Q: Why is it important to teach in new ways?
Doren: By engaging students in new ways, PBL can help those who often struggle with introductory science courses. In addition, we know that employers are looking for graduates who can work independently, break large problems down into smaller ones and solve them by working in teams of people with a diverse range of skills. The PBL approach develops all of these abilities.
Q: How do you see students—undergraduate and graduate—benefiting from the presence of research labs in the same building as instructional spaces?
Doren: We will integrate research with undergraduate learning by having scientists from the Gore Research Laboratories pose problems for the PBL classes. Data from the research side will also be used to provide examples. We hope this will be inspiring to students and give them a broader context for what they've learned in the classroom. We also expect that it will draw them into undergraduate research experiences.
Q: Do you expect interest from other institutions and/or businesses in some of the new research space and equipment we will have in ISE Lab?
Kiick: Absolutely. The materials characterization capabilities that we have on campus have already been a point of interaction with external collaborators, and I expect that this level of external interest will only increase when we expand our research capabilities in the ISE Laboratory.
Q: If you had to sum up the best thing about this building in a single sentence, what would you say?
Doren: ISE Lab is designed specifically to benefit students—building their research skills, allowing them to create knowledge for themselves and giving them the experience of doing science rather than just hearing about science.
Kiick: ISE Lab is cutting-edge and focused on the future, providing infrastructure that will enable UD to remain competitive in 21st century higher education and research.