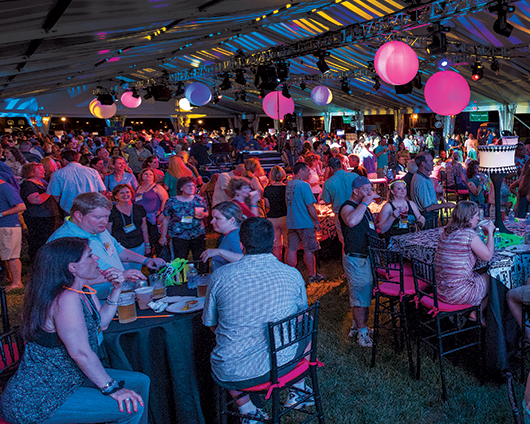 Evan Krape
Record-setting crowd renews its connections
ALUMNI | With a record-setting number of Blue Hens returning to campus for the fifth annual Alumni Weekend, the event continues to grow both in sheer size and in the overarching goal of building an active network of involved and committed alumni.
More than 5,000 alumni and friends enjoyed Alumni Weekend 2013, with nearly half choosing to forgo the comforts of hotel rooms in favor of a nostalgic weekend in UD's residence halls.
While on campus, they enjoyed music and camaraderie in color-splashed tents erected on The Green and in the inaugural Blue Hen R&B Lounge. There were reunions, receptions, races, lectures, UDairy Creamery treats and tours of the new Interdisciplinary Science and Engineering Laboratory (ISE Lab), as well as opportunities to rekindle friendships with classmates and seek the advice of trusted faculty members.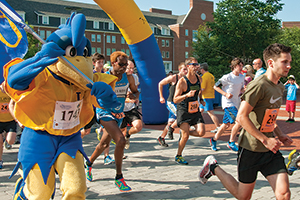 Doug Baker
Those who attended also deepened their connections to UD, which officials understand is vitally important to the future of the University as it ascends toward prominence not just regionally but also nationally and internationally.
A 2010 Chronicle of Higher Education article noted that universities must engage alumni early to encourage and sustain connections because while involvement is often a decision made based on emotion, it is one that can have long-term positive effects for both the alumni and the institution.
"We want to foster continuing engagement with UD," says Monica Taylor, vice president for development and alumni relations, adding that involvement can take many forms. "It isn't always about gifts; it can be about alumni volunteering their time to University events, to mentoring students or networking with other alums."
Such was the case with alumna Teri Gerberg Windisch, AS93. "Planning my 20th reunion was a wonderful experience," she says. "Not only was I able to reconnect with my friends and classmates, I reconnected with Delaware, the institution." Windisch says she is excited to stay involved through special events on campus, promotion of UD in her local community and ongoing financial support.
A more engaged alumni base has tangible benefits. Since the advent of Alumni Weekend, new donations from alumni have increased from about $24.4 million in 2008 to $63.8 million in 2013. Also, a better-organized alumni system has helped new graduates find mentors, internships and even jobs while also supporting events to encourage prospective students to consider attending UD.
UD President Patrick Harker, who annually provides an update on the State of the University as part of Alumni Weekend activities, says the event is instrumental in strengthening "the Blue Hen bond."
Engagement of the sort promoted by Alumni Weekend encourages alumni to become more involved in the life of the University and in the lives of the students, he says, and it reminds them that UD is well worth their investment of time, expertise and resources.
Such investments are paying dividends in key areas of the University's strategic plan, which, like Alumni Weekend, was launched five years ago. Goals of the plan that was developed to guide UD forward are: excellence in undergraduate, graduate and professional education; recognition as a premier research university; leadership in environmental education, research and technology; engaged global citizenship; and a sustained dedication to public service.
In this year's State of the University address, Harker said the success of the plan can be measured in terms of statistics but more importantly in terms of the 4,000 new graduates who walk across the Delaware Stadium turf each Commencement. "It's immediately obvious that no number, no statistic, no trend line can match those 4,000 stories," he said. "If you want to describe our mission, that's where you have to start."
As part of the presentation, Harker received "incredibly generous" gifts from the seven classes marking reunions this year, including the newest alumni from the Class of 2013. The total monetary donation reached $1,161,403, with much more provided through the sharing of time, talents and connections in a robust network of alumni who share with their peers and with current students, who in turn become alumni in a continuing cycle that breathes fresh life into the institution and creates momentum carrying into the future.
"I thank all of you for giving back to UD, for valuing what we do here and for helping us do it even better," Harker said.
Plan now for Alumni Weekend June 6-8, 2014
Alumni in the following class years will celebrate a milestone reunion at UD Alumni Weekend 2014: 1964, 1989, 1994, 1999, 2004 and 2009. Mark your calendar, and tell your friends. Want more information? Email the Alumni Relations Office at UD-reunions@udel.edu or call (302) 831-2341.